British automaker Land Rover is replicating history by reproducing the production line used to create the brand's first 4x4 in 1948.
Just after World War II, Land Rover's Series I was built at the Solihull, United Kingdom manufacturing plant, 2015 will be the final year of the Defender's production in the U.K. This celebration line will bring Land Rover's history to life and create a dynamic look into the brand's past.
Celebrations
The visitor attraction opened Jan. 27 and offers a glimpse at the car production line. Guests can wear "cow gowns," or overalls, and walk through the 1940s production line.
Maurice Wilks, the founder of the Land Rover, is showcased within the exhibit with images and video footage provided by his family.
Throughout the exhibit guests get to look into the manufacturing process with replica models in different stages of completion.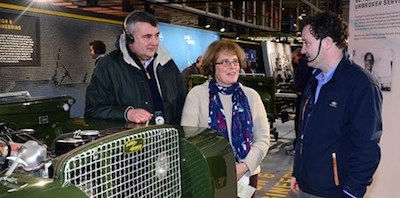 Guests at the exhibit
The brand turned to Phil Bashall, a Land Rover enthusiast, restorer and curator of the Dunsfold Collection of historic Land Rovers. Mr. Bashall helped to create the vehicles for the production line.
As an avid Land Rover fan, the collector has amassed about 8,000 original parts and was able to build replicas of the missing items with the help of craftsmen. With all of his parts, he built five Series I models for the Celebration line.
Land Rover's Defender factory tour is about three hours and costs approximately $68.
A few weeks ago, Land Rover returned to its roots with the launch of a year-long celebration of its Defender vehicle.
From the largest sand drawing ever in the United Kingdom to three limited-edition models, Land Rover is looking back to the genesis of its company of utility vehicles. These special editions are likely to appeal to the 4×4's fans as the classic car ceases production in the U.K. in 2015 (see story).