Private aviator Sentient Jet is integrating into the fan base of another sport this season at the International Polo Club in Wellington, FL.
This year will see the first annual Sentient Jet Challenge, and the player with the most goals during the 2015 season will receive an award from the brand. Sentient Jet repeatedly seeks athletic partnerships likely to present the brand with die-hard sport fans willing to jetset to the next game or match.
"The International Polo Club is a well-known and respected organization that offers an incredible viewing experience for polo fans," said Andrew Collins, president of Sentient Jet, Braintree, MA. "As a company that prides ourselves on impeccable service, the International Polo Club is a natural fit for Sentient."
Sports world
Previously, Sentient Jet teamed with the National Hockey League's Nashville Predators to accommodate the premium partners of the team.
The partnership will go through the entire 2014-2015 season and will allow the partners access to the private jet program (see story).
Similarly, Sentient Jet returned to its partnership with the Breeders' Cup, an international stage for thoroughbred racing.
Sentient Jet has returned to the cup after a three-year hiatus and will serve as the official private aviation partner for the next few years (see story).
This new partnership will present Sentient Jet cardholders and members of the International Polo Club benefits through the entire season. Cardholders will receive VIP box seat tickets and members will receive a special Jet Card offer to the private aviator.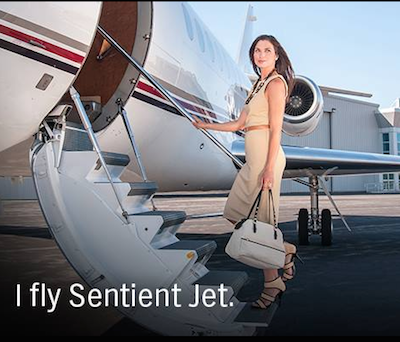 Sentient Jet promotion ad
In a branded statement, John Wash, president of the International Polo Club Palm Beach said, "We look forward to partnering with Sentient and offering a memorable experience for new and existing polo fans. Sentient Jet's world-class safety record and exceptional service made them a clear partner choice, and we are excited for a great polo season."
The first annual Sentient Jet Challenge will be during the high-goal season and the individual with the highest amount of goals will receive a gift from Sentient Jet. The award will be presented at the U.S. Open Polo Championship on Sunday, April 19.
"The attention from the presentation at the U.S. Open Polo Championship will help Sentient continue to increase brand awareness among a key target audience," Mr. Collins said.
Athletic achievements
Athletes accomplish some of the top physical feats in the world, and aligning a brand with these accomplishments will likely reflect well upon the company. Aviation brands consistently seek sport relationships.
For instance, United Arab Emirates airline Etihad Airways partnered with Major League Soccer franchise, New York City Football Club for its upcoming season.
The partnership was kicked off with a cocktail party celebrating both the airline and the soccer team. The collaboration will likely align both Etihad Airways and New York City Football Club with the standards and goals of one another (see story).
Also, private aviation company Magellan Jets is appealing to Seattle Sea Hawks and New England Patriots fans with an exclusive VIP Super Bowl package.
Football fanatics will be able to fly to Arizona and take part in all the events before, during and after the game. Magellan Jets will likely score some points with guests by making a special occasion, like the Super Bowl Feb. 1, even more memorable with exclusive opportunities and accommodations (see story).
Integrating sport fans into a brand for a short period of time allows Sentient to offer a glimpse at their services that may translate into a long-term relationship with consumers.
"The partnership is beneficial for Sentient Cardholders as they can enjoy VIP box seat tickets to watch polo matches throughout the season in comfort and style," Mr. Collins said. "It is also beneficial for International Polo Club members as they will receive a special Jet Card offer to fly with Sentient Jet and experience the flexibility and convenience of private air travel."
Final Take
Nancy Buckley, editorial assistant on Luxury Daily, New York