British automaker Land Rover is riding into the heart of New York as the official vehicle for the third annual Rolex Central Park Horse Show Sept. 21-25.
Land Rover has been selected as the official vehicle of the equestrian event for three years running. In its role as official vehicle of the Rolex Central Park Horse Show, launched in 2014, the automaker will display its latest Range Rover Sport HSE model and activate a children's driving experience alongside must-see Olympic equestrians.
Horsing around
Since its beginning, the Rolex Central Park Horse Show has attracted both affluent and aspirational audiences interested in equestrian sports. Likewise, the event has also seen the sport's most iconic competitors participate.
The five-day event, beginning today, is staged on Central Park's Wollman Rink underneath the New York skyline. The Rolex Central Park Horse Show is the first-ever outdoor multi-day equestrian event to be held in the city and is broadcast to audiences in the U.S. and globally, creating an optimal platform for Land Rover to receive visibility.
During this year's event, triple Olympic individual gold medalist Charlotte Dujardin and her horse Valegro will perform a dressage routine. Additional events include Arabians, hunter competitions, show jumping and more.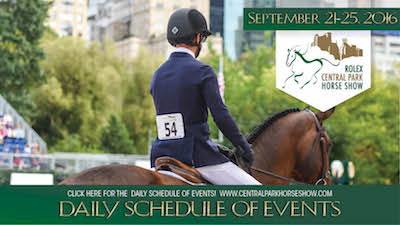 Promotional image for the Rolex Central Park Horse Show Sept. 21-25
Spectators will watch firsthand as U.S. Show Jumping Team silver medalists from the Rio 2016 Olympic Games, McLain Ward and Kent Farrington, compete for the title of U.S. Open Champion on Thursday, Sept. 22 and Friday, Sept. 23.
To attract young equestrians, Land Rover will host children's pony rides, face painting and equestrian demonstrations. The automaker will also dispense a fleet of electric-powered replicas of its signature models for children to enjoy.
For older attendees, Land Rover will display its Range Rover Sport HSE model on site.
Automakers often align their models with equestrian sports.
For example, Britain's Bentley Motors infused itself into the heart of British horse racing by becoming the luxury automotive partner of The Jockey Club.
Established in 1750 by the champions of British horse racing, and under the patronage of HRH Queen Elizabeth II, the Jockey Club operates 15 race courses in the United Kingdom. As Britain's second-largest spectator sport, Bentley will be visible among horse racing's fans and supporters (see story).