Jeweler Van Cleef & Arpels is shedding new light on its creations by showcasing them alongside Japanese crafts.
"Mastery of an Art: Van Cleef & Arpels - High Jewelry and Japanese Crafts" opened April 29 at The National Museum of Modern Art in Kyoto, Japan, allowing visitors to explore both cultures' craftsmanship. While luxury brands frequently use exhibits to educate attendees on their craftsmanship, providing this additional context takes the narrative beyond the brand.
Jewels in Japan
The first section of the exhibit showcases the history of jewelry through the lens of Van Cleef & Arpels. Next, pieces from Van Cleef & Arpels are shown beside traditional Japanese crafts from the Meiji period from 1868 to 1912.
Finally, the exhibit looks at modern craftsmanship in both France and Japan.
The exhibit, which will be up until Aug. 6, is produced with support from the Embassy of France and Institut Français. For the run of the exhibit, the museum will have extended hours on Friday and Saturday nights.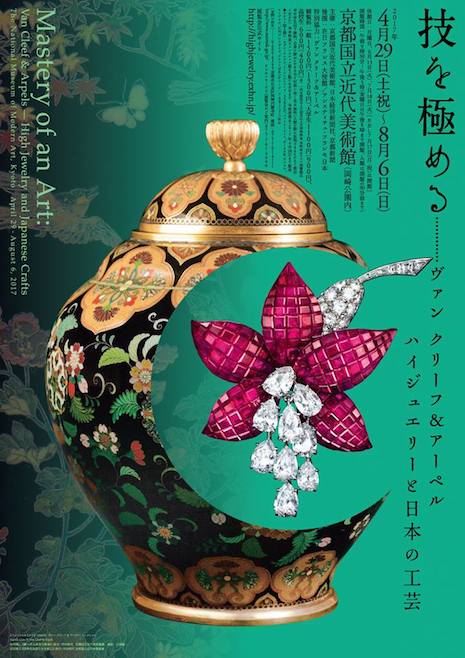 Event poster for Mastery of an Art: Van Cleef & Arpels
Van Cleef & Arpels frequently turns to exhibits to highlight different stories of its jewelry.
Jeweler Van Cleef & Arpels is exploring gemology and the craft that goes into its pieces through an exhibition at the ArtScience Museum in Singapore.
"The Art & Science of Gems" focused on both the artistic capabilities necessary to develop fine jewelry, as well as the science that leads to the formation of precious stones and minerals. For those who could not make it to Singapore, Van Cleef & Arpels made the museum experience available through a dedicated microsite (see story).