Prabal Gurung held an online contest to build a community and increase engagement via user-generated content on Polyvore.com.
Prabal Gurung held the contest on Polyvore in September. It encouraged Polyvore users to put together pieces from Prabal Gurung's Spring/Summer 2011 collection in the hopes of creating the best look. Two winners were selected and flown to New York for the brand's Feb. 12 fashion show at New York Fashion Week.
"New York Fashion Week allows luxury consumers to really get an understanding of not just the clothes that go down the runway but of the brand's DNA," said Prabal Gurung, founder and designer of Prabal Gurung, New York. "Every element is reflective of who or what the designer stands for from the lighting and runway to the clothes themselves."
Polyvore's site features luxury apparel and accessories, ecommerce, fashion advice from industry experts and activities that create opportunities that allow consumers to become immersed in the luxury industry.
Two P's in a pod
The relationship between Prabal Gurung and Polyvore began when the designer debuted its Spring/Summer 2011 collection in a sneak-peak preview in New York Times' T Magazine.
Polyvore users were then invited to use the pieces that were debuted in T Magazine as inspiration to style their own outfits.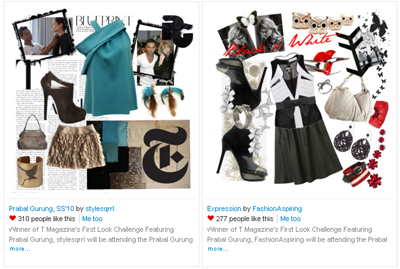 Prabal Gurung winners
"The collaboration we did with Prabal Gurung and the New York Times style publication T Magazine was an innovative partnership because it offered Polyvore creators the chance to have an exclusive first look at his Spring/Summer 2011 collection," said Jess Lee, cofounder of Polyvore, Mountain View, CA. "Our creators had the opportunity to style his items before his collection hit the runway.
"One of our primary goals at Polyvore is to democratize fashion and this partnership allowed our creators all over the world to virtually participate in New York Fashion Week," she said.
Polyvore flew the two winners to New York and awarded them tickets to the brand's show at Fashion Week. They will also go on a tour of the designer's Fabric District studio.
"The opportunity to attend New York Fashion Week is a dream come true for many of our creators," Ms. Lee said. "From Prabal Gurung to Bergdorf Goodman to Rebecca Minkoff, we're grateful to be working with partners who are empowering our creators to have a voice in both the style and design process."
Consumers care
Fashion week is a huge deal for luxury consumers, especially those who are members of sites such as Polyvore that revolve around the industry.
Polyvore has done two initiatives with Rebecca Minkoff, one that involved letting Polyvore members to create their own "Morning After" clutch, which will be debuting on the runway during the designer's show.
The other was a styling contest, where consumers took products from the designer's newest line to style a Fashion Week-worthy look (see story).
Both winners were chosen by Ms. Minkoff herself, and both are attending the brand's show on Feb. 11.
Bergdorf has also collaborated with Polyvore, where members styled the retailer's fashion director, Linda Fargo (see story). The winner will be attending Michael Kors' fashion show with Ms. Fargo on Feb. 16.
Brands also benefit from having their customers and fans at events such as Fashion Week because they feed off of the energy of people that they know care about their products.
For example, Mr. Gurung said that he fully enjoys interaction with clients. He hopes that consumers prefer wearing something with a story behind it and when he interacts with consumers, he can tell them about his designs and their history.
"We make it a priority to accommodate our partners at the show," Mr. Gurung said. "The Polyvore contestants, for example, use the site as a creative outlet and I love knowing that creative people are taking the time to make mood boards with my work.
"Polyvore viewers play with fashion and have fun with it," he said. "They fuse unexpected combinations, mix styles and silhouettes and create brilliant pieces of art.
"That in so many ways is what I strive to do daily, and those are the types of individuals I want to see present at the show."
Final Take
Prabal Gurung discusses the Polyvore challenge