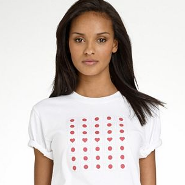 Apparel and accessories retailer Tory Burch is showing its love and support for Japan by donating all of the profits from the sale of its specialty shirts to the earthquake and tsunami victims.
The Tory Burch "Japan Relief T-shirt" for women is available for pre-order on the brand's Web site and select Tory Burch boutiques. The T-shirt will sell for $29.
"As a global society and with a global audience, brands want to show their support not only to those that are directly affected but to those that are their customer base," said Kimmie Smith, designer, style expert and founder/editor in chief of Kitten Lounge, New York. "For Tory Burch, philanthropy is fundamental to her business model as she has ongoing efforts to support entrepreneurial women.
"She is known as an influencer who believes in giving back and supporting those who are unable to do so for themselves," she said. "This spirit of charity is one of the components that make her brand successful."
Tory Burch did not respond by press deadline.
Tee time
Tory Burch unveiled the "We Heart Japan" T-shirt on the March 18 episode of ABC's "The View."
Inspired by the national flag of Japan, the Tory Burch Japan relief T-shirt features rows of flags with a row of hearts in the middle.
The red hearts are literally surrounding the Japanese flags.
All of the net proceeds of the t-shirt that are sold through Sept. 15 will be donated to the American Red Cross to benefit the relief efforts in Japan.
Buying the shirt also qualifies for free shipping.
The crewneck white T-shirt comes in women's sizes XS-XL.
"More than ever, fans are getting to see the real side of personalities behind the curtain and increasingly are demanding authentic, unscripted interaction with those they follow," said Paul Farkas, founder/CEO of SocialFashion.com and collaborator-in-residence for Watchitoo.com, New York.
"In getting personally involved, the T-shirts bring caring and thoughtfulness from the woman behind the label and those that wear it are socially recognizing the chic solidarity with others that join," he said.
"The shirts inherently tell a story that is certain to act as a conversational piece among those nearby."
Spreading the word
The fashion industry has come out in full force to raise funds for the relief efforts, and it has not taken long for designers to put their talents to good use.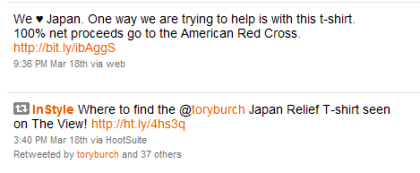 Tory Burch's Twitter announcements
For example, Ralph Lauren has designed a polo shirt whose entire sales will be donated to the United Way Worldwide (see story).
Brands, including Tory Burch, are reaching consumers via social media to efficiently spread awareness about how to help those affected by the natural disasters in Japan (see story).
Tory Burch has spread the word about the "We love Japan" T-shirt on its Facebook and Twitter pages.
Bergdorf Goodman uses Twitter to explain different ways that consumers can help, such as buying things that benefit relief victims or Web sites to organizations that are helping those in Japan.
The retailer also devoted a section of its Facebook page to show consumers where they can donate money.
Gucci and Swarovski have offered condolences for those affected and are encouraging their Twitter followers to text keywords such as Red Cross or The Salvation Army to automatically donate $10 to the organization.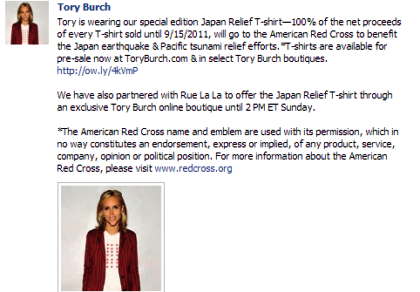 Tory Burch's Facebook announcement
"Tory Burch made the right move in being mindful of traditional Japanese culture by not integrating T-logos and other luxury brands should follow suit with this and other causes in being contextually and conservatively savvy rather than excessive or self-promotional," Mr. Farkas said.