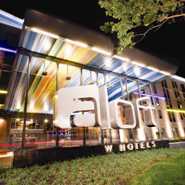 Aloft, Starwood Hotels & Resorts' upscale chain, is hosting the exclusive Napa Valley live music festival called "Live in the Vineyard."
To kick off the event, Aloft Hotels is giving away a pair of tickets, hotel and airface to this exclusive concert via a trivia sweepstakes on its Facebook page. Live in the Vineyard will take place the weekend of April 9 at Napa's restored art-deco Uptown Theatre.
"Now in its third year, Live in the Vineyard is a private, once-in-a-lifetime experience where acoustic pop and rock music concerts unfold amidst the lush scenery of boutique wineries in California's Napa Valley," said Paige Francis, vice president of global brand management at Aloft Hotels, New York.
"Superstar and emerging artist performances are paired with intimate wine tastings and food pairings to give winners a truly unique experience," she said.
Aloft Hotel debuted in 2008 and since then has opened close to 50 properties worldwide. It is a brand within Starwood's portfolio of hotels.
Designed to appeal to the savvy, next-generation traveler, Aloft brings urban-influence and vibrant design to guests.
Musical montage
Musicians Lenny Kravitz, Michael Franti & Spearhead, Colbie Caillat and Matt Nathanson will top the roster headlining the Live in the Vineyard live music showcase.
The lineup will also include Plain White T's, Parachute, Jason Reeves, Default, Marc Broussard and Hanson.
Tickets for the Live in the Vineyard events are available through special radio station promotions featured on http://www.liveinthevineyard.com and the exclusive Aloft Hotels Facebook giveaways.
Along with the festivals, Aloft Hotels serve as the venue for Live in the Vineyard artists who perform up-close and personal shows for hotel guests through a series of live acoustic sets at Aloft properties across the nation.
Consumers can check out the site at http://www.alofthotels.com/wxyzbar for updates on confirmed shows at Aloft hotels nationwide.
"Regular updates from the event, photos and performances will also appear on Aloft's Facebook page and music bloggers have been invited to live blog for their sites from the event," Ms. Francis said.
A-major event
Live in the Vineyard is the latest pop culture partnership from Aloft.
Recently, R&B star Keri Hilson performed for an audience at the Aloft Harlem propery opening.
Aloft became the first hotel brand to "break" a new recording artist through its "Project: Aloft Star" talent competition.
The hotel chain invited Facebook users to vote for their favorite artist-submitted videos. The California singer-songwriter Adrian Bourgeois and runner up Jake Smith from New Orleans, are on a national tour of Aloft Hotels.
The Live in the Vineyard event is being promoted through editorial coverage as well as special partnerships such as Gilt Groupe's subsidiary, Gilt City.
Gilt City San Francisco recently held a sale for the event, with a VIP experience and proceeds benefitting City of Hope, a comprehensive cancer center located near Los Angeles.
"Music is important to the Aloft guest, and Live in the Vineyard is a [an] opportunity to be a partner in discovering new artists and showcasing big names in a unique setting unlike any other," Ms. Francis said.