Swiss watchmaker Breitling is celebrating the United States' armed forces with a limited-edition American Tribute Watch, of which only 50 will be produced.
The brand will be donating all proceeds from the American Tribute Watch to the Fisher House, a military-oriented charity. The watch will be sold only in New York and Florida.
"Breitling wanted to pay special tribute to U.S. troops this Veterans Day, so the brand created the limited-edition American Tribute Watch," said Thierry Prissert, president of Breitling USA, Wilton, CT.
Fisher House is an organization that builds homes to provide free, temporary housing to families to service members needing medical care across the country.
About face
The American Tribute Watch is based on the Breitling Chronomat 44 watch. It features Caliber 01, the watchmaker's movement.
Each of the 50 pieces are individually numbered and have an etching on the back of the watchface that reads, "Breitling for America. United We Stand."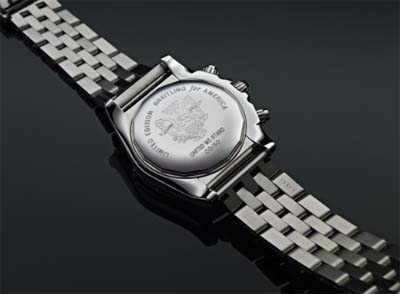 Breitling's American Tribute Watch
The watch will retail for $8,960 and is available only in Breitling's New York and Aventura, FL boutiques.
"This promotion will stimulate positive media exposure for Breitling at a time leading into the holiday gift season, which is an important time for selling watches," said Ron Kurtz, president of American Affluence Research Center, Atlanta.
"[Also], it will strengthen Breitling's image as being a patriotic supporter of veterans," he said. "The exclusivity of limited-edition products contributes to a perception of luxury."
Mr. Kurtz is not affiliated with Breitling, but agreed to comment as an industry expert.
Breitling has been closely linked with the armed services, specially aviation. This has enabled Breitling to count on this professional advice in designing products to military standards of functional excellence and reliability, according to Breitling's Mr. Prissert said.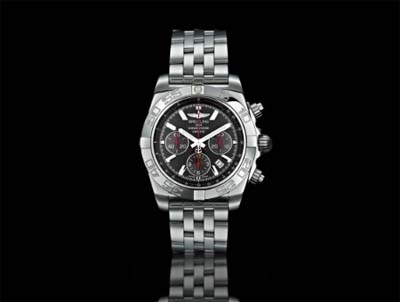 Breitling's American Tribute Watch
However, this timepiece is to celebrate all veterans, not just the United States Air Force, according to Breitling.
CSR for CRM
Breitling's veteran-inspired watch makes sense since the company is intertwined with aviation for some time now and prides itself on designing products made to withstand extreme air, water, wind and atmospheric pressure.
Many Breitling customers are extreme athletes whose hobbies or professions include aviation and deep-sea diving. Actor John Travolta, himself a passionate aviator, also models for Breitling.
That said, it is entirely possible that a chunk of Breitling's customer base have, or have family members who have, been part of the armed forces.
Breitling is committing to its customer base by engaging them in an area that it believes will target the greatest number of people.
"Segments of the affluent community will be attracted by this promotion," Affluent Research's Mr. Kurtz said. "Retired military officers, affluent people who have served in the military and affluent people who are very patriotic will be among those favorably disposed by this promotion.
"[Additionally], some in the affluent market will want to wear and proudly display such a watch as a conversation piece," he said.
Final Take
Rachel Lamb, associate reporter on Luxury Daily, New York