German automaker BMW is pushing its new i concept electric vehicles through a week-long event in New York featuring vehicle displays and interactive showcases on sustainability.
The i. Born Electric Tour is showing off BWM's new i vehicles before the official North American unveiling. The tour also offers interactive exhibits to showcase mobility solutions and sustainable materials Nov. 14-18 across from Bryant Park in Manhattan.
"BMW is about much more than vehicles," said Joan Bowen, i brand marketing communications manager at BMW of North America, New York. "The seven-city global BMW i Born Electric tour is not only showcasing some of the new vehicles, technologies and services being developed under our BMW brand, it is also allowing us to share BMW's vision for the future of mobility.
"Throughout the week in New York we have brought together civic leaders, professors from New York University and Columbia University, technology experts and others to discuss some of the issues surrounding future mobility," she said.
Electric future
BMW is tempting North American drivers with its i8 Concept Spyder and i3 Concept before their official North American release.
The New York event will offer several displays including two of the new vehicles, a model to show how the vehicles are made and exhibits from designers and artists who share the vision for a sustainable future.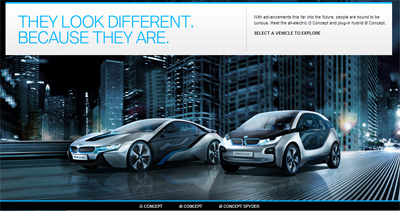 i concept vehicles
Both models are environmentally friendly. The i3 concept is all-electric and the i8 and the i8 Spyder are plug-in hybrids.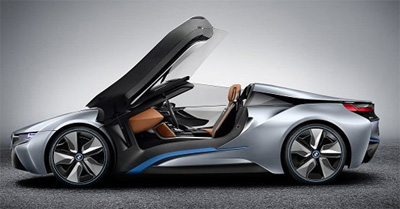 i8 Spyder
The i3 will be available in late 2013. The i8 will be available in 2014, per BMW.
Prices are not yet available for the vehicles.
The body of the i vehicles is made from carbon fiber-reinforced plastic.
The interiors of the vehicles are made with renewable resources and natural materials.
Also, the factories for the i vehicles are environmentally friendly. One of the production plants is powered by wind turbines, per BMW.
More mobility
BMW chose seven international cities to host the i. Born Electric Tour this year.
In addition to New York, cities include Rome, Düsseldorf, London, Paris, Shanghai and Tokyo.
"New York along with Rome, Tokyo, Düsseldorf, Shanghai, London and Paris are just seven cities that are not only facing the mobility challenges associated with a rapidly increasing population, but they are also among the most innovative and forward-looking cities in the world when it comes to transportation and technology," Ms. Bowen said.
BMW is also promoting its i concept vehicles through a video. It features a view of a street in New York that is close to where the i. Born Electric Tour is taking place.
The 20-second teaser shows cars driving down the street. A black SUV morphs into a BMW i3.
Then, the words "The future is closer than you think" appear as cars continue to drive by.
Information on the tour in New York flashes onto the screen as well as a link to BMW's Web site. Click here to watch the video.
Other videos are available on the i concept Web site that show off each model.
BMW also released an application for the i concept vehicles last month. The MyCityWay app lets users navigate through a number of different cities.
The app is available for free from the App Store and Google Play.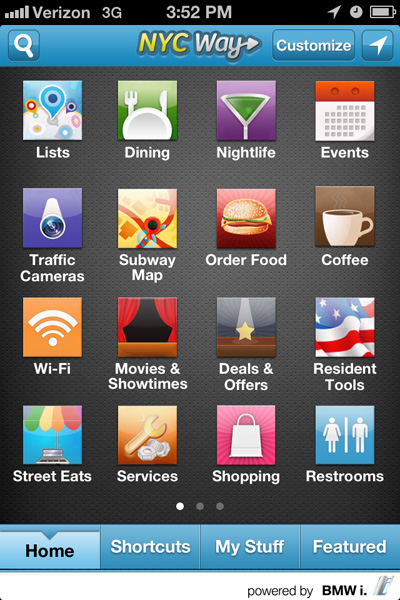 MyCityWay app
"With the new vehicles and mobility services offered under the BMW i brand, we are working to help share the future of mobility and ensure freedom of mobility for individuals, whether it be by car, train, bus, bike or foot," Ms. Bowen said.
Final take
Erin Shea, editorial assistant on Luxury Daily, New York