BMW Group Canada is eyeing sports enthusiasts worldwide through a four-year sponsorship of the Canadian Olympic Team.
The German automaker's BMW car is the official vehicle of the Olympic Team and will provide funding and support of the teams and the athletes. The sponsorship includes the next two Olympic games: the Winter Olympic Games in Sochi, Russia, in 2014 and the Summer Olympic Games in Rio de Janeiro, Brazil, in 2016.
"We feel it is a natural move to support Canadian Olympians, athletes who are the most successful in their individual sports," said Barn Pitblado, director of corporate communications at BMW Group Canada, Richmond Hill, Ontario.
"BMW's sponsorship of the Canadian Olympic Team will allow us to drive brand awareness and to connect with our customers in ways we have never been able to before," she said. "As we move forward in our partnership, we will create unique programs that will go directly toward supporting Canadian athletes, and this will enable us to become part of our communities in deeper ways than ever.
"It will also afford us the opportunity to promote and invite Canadians to experience and learn why BMW is a leader in performance and innovation."
Go for gold
BMW Group Canada's sponsorship of the Canadian Olympic Team is four years long and will span over two Olympic Games.
This partnership will provide funding for the athletes and the teams along with the ability to further generate fundraising opportunities.
BMW is promoting the sponsorship through its Web site homepage and its Facebook.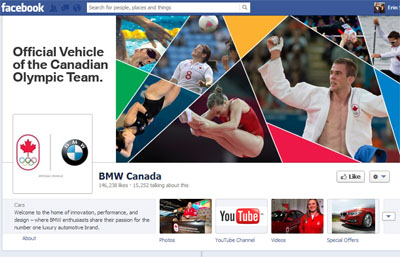 BMW Group Canada's Facebook page
In addition, BMW released a short video interview with Olympic trampoline gold-medalist Rosie MacLennan about the BMW partnership and how this will help the team.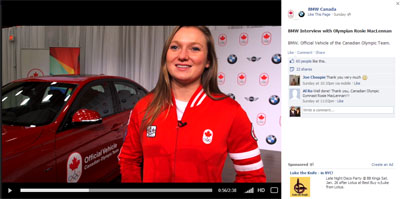 Video interview with Rosie MacLennan
The video is available on BMW Group Canada's Facebook page.
This sponsorship is not the first time BMW has been involved in a world-class sporting event.
BMW was the official automobile partner for the London 2012 Olympic Games and the Paralympic Games.
The automaker is involved in Olympic partnerships in other countries such as United States, England, Spain, Greece, Austria, France and China.
These sponsorships will likely help BMW gain more positive attention on a global scale.
"This sponsorship will lead to great media publicity and various merchandising and promotion opportunities for BMW," said Ron Kurtz, president of the American Affluence Research Center, Atlanta.
"It also aligns BMW with the national pride that is associated with Olympic teams and will favorably boost BMW's stature with Canadians," he said.
"This adds value to BMW by strengthening its public image and having the opportunity to implement various dealer and consumer promotions that will help increase sales and enhance its image."
Proud supporters
Other luxury brands have engaged in partnerships with Olympic teams.

For instance, lifestyle label Ralph Lauren created the U.S. Olympic and Paralympic Closing Ceremony parade uniforms and village wear for this summer's games in a move to maintain brand affinity and position itself as a thought leader during one of the most-watched events every four years (see story).
Another automaker, Audi of America, renewed its Olympic team sponsorship in November 2012.
The automaker extended its sponsorship of the U.S. Ski Team for an additional five years and is showing off its S and RS models at events during the 2012-13 competition season.
The automaker is the official vehicle of the U.S. Ski Team and will supply vehicle transportation for the athletes in U.S.- and Europe-based competitions. Audi is initiating the Audi Ski Challenge competition this season in Vail, Aspen and Beaver Creek, CO; and Squaw Valley, CA (see story).
Aligning a brand with a sports team, especially Olympic teams, can show the dedication that a brand has to a country and is likely to help build up enthusiasm for the brand.
A sponsorship like this can be especially helpful for automakers.
"Automakers like to be Olympic sponsors because it gives them a foundation for creating merchandising and marketing promotions for both the consumer and their dealers, for creating media publicity, and for strengthening their image by supporting an effort that is associated with patriotism and national pride," Mr. Kurtz said.
Final take
Erin Shea, editorial assistant on Luxury Daily, New York