Department store chain Saks Fifth Avenue raised awareness of its SaksFirst loyalty program by holding an event in the fourth-floor boutique space at its New York flagship store for customers and select media.
The event drew Saks customers in-store Jan. 31 where signage that described the new rewards card was present throughout the store including in the first-floor beauty level and elevators. The retailer was likely drawing existing customers in-store to leverage its "5 Days of Firsts" program that took place last week to mark the launch of SaksFirst.
"In this current market, retailers cannot rely on standard incentives to engage luxury shoppers because their loyalty transcends traditional rewards," said Dalia Strum, president of Dalia Inc., New York. "Typically, luxury consumers have a strong relationship with a representative from the company.
"Therefore it's important for the company to find targeted ways to display their appreciation," she said. "Consumers want to feel like brands or companies not only know who they are, but also details about their segmented interests.
"Luxury consumers appreciate personalization and customization targeting their preferences."
Saks could not comment before press deadline.
Party time
Those invited to the event gathered on the fourth level of the flagship store at 611 Fifth Avenue, New York, 6-8 p.m.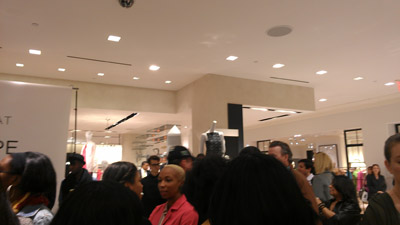 Attendees
As soon as attendees stepped out of the elevator, they could hear the music provided by special guest Solange Knowles, who is the sister of Super Bowl XLVII halftime performer Beyoncé Knowles.
The younger of the Knowles sisters provided a two-hour DJ set for the event. She stood at the front of the gathering as the focal point.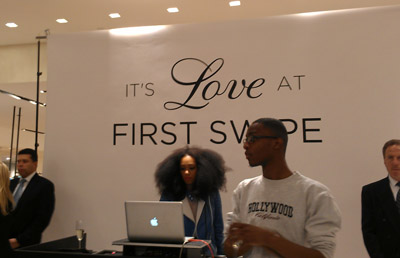 Solange Knowles
Cocktails and hors d' oeuvres were passed during the event.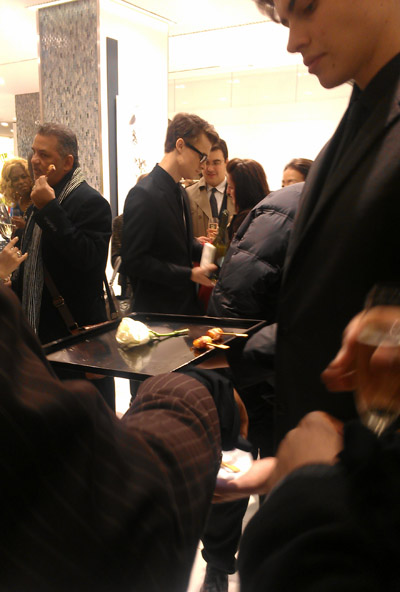 Servers
Some of the guests danced while others took in their surroundings and sat in the lounge space in the Elie Tahari boutique.
The retailer kept the event focused on SaksFirst by showing the rewards program slogan "It's Love at First Swipe" on a backdrop behind Ms. Knowles.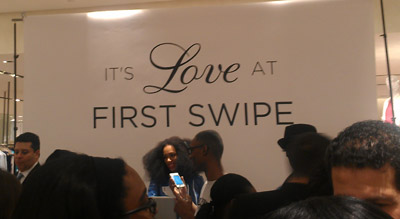 Ms. Knowles
Mannequins were dressed in skirts made from numerous SaksFirst cards. There was also a building-like structure covered in the black cards.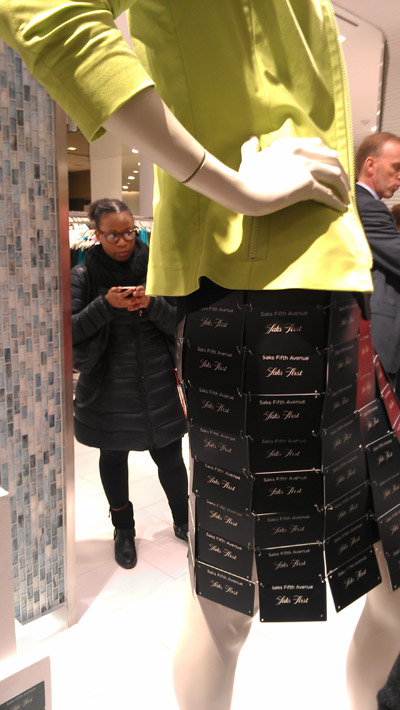 Mannequin
Eventful evening
Saks likely held the event to draw customers back to the store last week to take advantage of SaksFirst offers available only at its New York store Jan. 28-Feb. 1.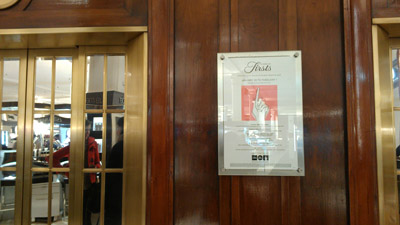 Elevator sign
Customers who signed up for a SaksFirst card last week received a $25 gift card all week.
The first 500 customers who showed their Saks card at the store Jan. 28 received a $100 gift card.
On Jan. 29, consumers could access an offer via Facebook to receive a complimentary yogurt at in-store eatery SnAKS on the 5th floor.
On Jan. 30, cardholders got same-day free delivery in Manhattan on orders placed before 3 p.m.
Cardholders received 1,000 SaksFirst bonus points with their first purchase on Jan. 31 and they received double points on beauty purchases Feb. 1.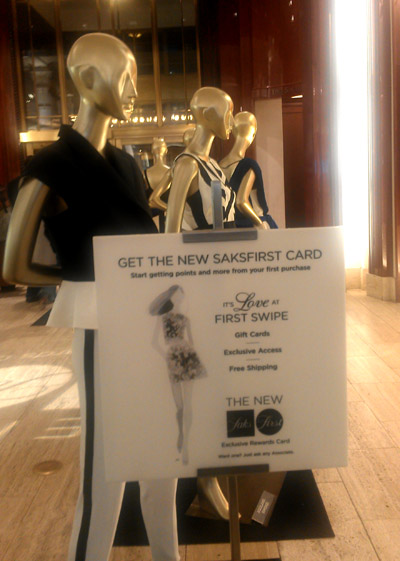 First-floor signs
Under the new SaksFirst program, store cardholders are automatically enrolled for free, earn points toward a gift card with their first purchase, receive free shipping on in-store and online purchases, are invited to attend more special events and receive more private benefits (see story).
Saks is likely drawing young, affluent consumers to use its rewards program by hosting the cocktail party.
"This exclusive event targeted the younger affluent demographic to connect with today's cultural celebrity, Solange Knowles, and appreciate luxurious details while shopping," Ms. Strum said.
"Who wouldn't want to shop while enjoying a celebrity presence, drinks and music?" she said. "That strategy provides an opportunity for their clientele to enjoy all their favorite vices at one time."
Final Take
Tricia Carr, editorial assistant on Luxury Daily, New York