Rolls-Royce Motor Cars is driving its company-wide philanthropic efforts through a new partnership with the Southampton Hospital Paediatric Rheumatology Service in Southampton, England.
The British automaker chose the rheumatology service to be its house charity for 2013. Involvement in philanthropic activities can help a luxury marketer create positive morale internally while generating awareness for the brand and organization.
"The charity was nominated and voted for by Rolls-Royce employees," said Andrew Ball, corporate communications manager for Rolls-Royce Motor Cars, Goodwood, England. "We follow this process each year for our house charity.
"The charity is local to Rolls-Royce and is, of course, very worth of our support," he said.
Caring company
The Southampton Hospital Paediatric Rheumatology Service was nominated and voted on by employees, as per the automaker's procedure in selecting a house charity, to be the 2013 house charity.
The charity focuses on children with arthritis and aims to become the largest regional center caring for this disease in children.
Last year, Rolls-Royce partnered with the Chestnut Tree House, a children's hospice in Sussex, and raised more than $30,000 for the organization.
Throughout the year, Rolls-Royce employees gave their time as volunteers and provided monetary donations to the Chestnut Tree House.
Also, the automaker donated a large custom-made sign for the organization.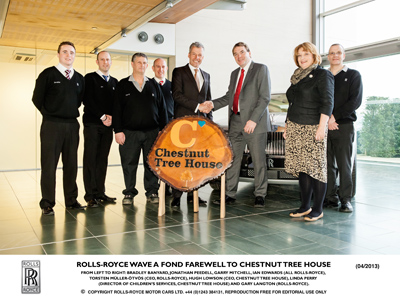 Rolls-Royce employees present the sign to Chestnut Tree House
In addition, the automaker also supports BEN, a British charity dedicated to helping those who work or have worked in the automotive and related industries and their dependents.
The house charity program helps the automaker in a variety of ways internally and externally.
"First, it gives the Rolls-Royce employees a meaningful activity of which they can be proud and that will strengthen their bonding and teamwork, which should boost morale and productivity," said Ron Kurtz, president of the American Affluence Research Center, Atlanta.
"Second, it creates favorable media publicity for Rolls-Royce that will enhance its stature as a responsible company," he said.
"Third, it will create content for various forms of future communications to employees, customers, media and fans."
Giving back
Many luxury marketers have chosen company charities or encouraged employees to get involved in philanthropic efforts.
For instance, Gucci is taking a stance on women's right to education, health and justice by establishing a new global campaign with creative director Frida Giannini, actress Salma Hayek Pinault and singer-songwriter Beyoncé Knowles-Carter at the helm.
The Kering-owned Italian fashion house launched the "Chime for Change" global movement Feb. 28 at the TEDxWomen luncheon during the TED2013 conference in Long Beach, CA (see story).
Also, Montblanc, a maker of writing instruments and watches, refreshed its charity efforts through a partnership with children's aid organization UNICEF and the "Signature For Good" collection.
The brand released the special-edition collection that benefits UNICEF at a brunch event on the morning before the Academy Awards (see story).
Incorporating charitable giving into part of a luxury brand can benefit both the marketer and the charity.
However, the company's intentions should be genuine.
"Such charitable activities should be undertaken only with genuine effort and sincerity to make them successful," Mr. Kurtz said.
Final take
Erin Shea, editorial assistant on Luxury Daily, New York