NEW YORK - A Fairmont executive at The Luxury Retail Summit: Holiday Focus 2013 yesterday said that 48 percent of high-end consumers take four trips per year, while 20 percent travel more than four times per year.
Eighty percent of wealthy Chinese consumers are between ages 18-45, but 30 percent of wealthy U.S. consumers fall into this age range. To account for the global disparities in consumer makeup and the ever-shifting landscape, Fairmont focuses on horizontal rather than vertical marketing strategies.
"Where people are coming from and where they are purchasing, these demographics are changing," said Andrea Johnson, executive director of customer relationship management at Fairmont Hotels and Resorts, Toronto. "Our brand promise is predicated on personalization.
"Luxury has transcended socioeconomic segmentation," she said. "The expanding nature of the luxury segment necessitates a different view of what luxury means."
Luxury Daily organized the Luxury Retail Summit: Holiday Focus 2013.
Six enduring keys
Ms. Johnson elaborated on six of Fairmont's guiding principles for handling customer relations.
The first principle is remembering that travel is considered to be a right. Consumers feel more entitled to leisure travel, which alters the economic diversity of guests.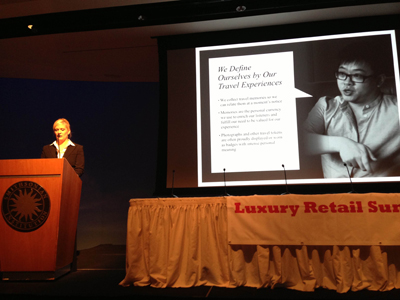 Fairmont's Andrea Johnson at the Luxury Retail Summit Sept. 18
During the global economic decline, leisure travel remained relatively unscathed, she remarked.
Secondly, Ms. Johnson stressed how there is no such thing as an average luxury traveler. She argued that since there is not one big homogenous pocket of consumers, brands have to look at how each guest behaves.
Next, she emphasized the importance of creating "cocktail currency," or moments that guests will always remember.
As "custodians of the moment," Fairmont tries to personalize every stay for its guests using data accumulated from previous interactions.
Ms. Johnson then pointed out that Fairmont has returned to the basics of simple customer relationship marketing and leverages the emotional component of travel.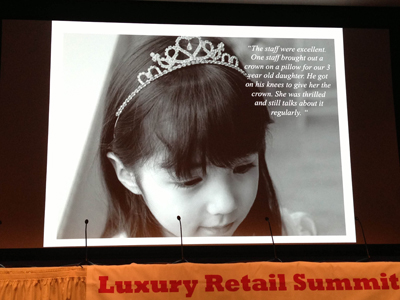 Luxury Retail Summit
The global mobile consumer demands that Fairmont creates branded experiences during every interaction.
Finally, she explained how dining accounts for around 42 percent of hotel revenue. Such a high figure impels the brand to approach its culinary options differently.
Fairmont strives to view consumers based on their brand affinity and long-term expectations rather than short-term socioeconomic categories.
New markets
Ms. Johnson also discussed the brand's growth starting in 2005 from a primarily North American brand to a global one.
As the brand enters new markets, she described the brand's mission to adapt to cultural sensitivities.
For example, to better serve Middle Eastern travelers, Fairmont developed appropriate family and religious amenities and adapted its menus. To best achieve this ideal, the brand challenges existing products to make way for fresh ideas.
Furthermore, the brand must contend with varying age compositions of luxury consumers around the world.
Unlike Western markets, China's luxury population skews towards younger consumers.
The brand expects Chinese consumers to account for 20 percent of the global luxury market by 2015.
As the brand continues to expand, it aims to strengthen its primary goal of turning moments into memories.
"Life happens, experiences happen, lives are remembered, companies are brought together," Ms. Johnson said. "Fairmont is grounded in access to information of personalization."
Final take