Swiss jeweler Chopard is working together with the Happy Hearts Fund to help rebuild schools and aid children that have been affected by natural disasters with an exclusive bracelet designed specifically for the cause.
The Happy Hearts Fund was created by model Petra Nemcova in 2005 after she was injured in Thailand during the 2004 tsunami that devastated the region. Chopard's involvement with Ms. Nemcova's charity is likely to attract affluent philanthropists interested in giving back to their global community in time for the holiday season.
"Chopard has a strong commitment to helping Happy Hearts Fund ensure that children are not forgotten after natural disasters," said Sue Veres Royal, executive director of Happy Hearts Fund, New York.
"They have shared their creativity and talents in creating a very special bracelet that is sold around the world helping us increase our reach and impact," she said.
"We are very excited and honored to work with such a respected company and look forward to building many schools together to help restore hope and educational opportunities for children whose lives have been forever impacted by natural disasters."
Chopard was unable to comment before press deadline.
Helping hand
Chopard designed its Happy Diamonds Icon bracelet to support the Happy Hearts Fund. The bracelet is heart-shaped to align with the name of the charity it will benefit.
Made of 18-karat rose gold the bracelet hanging charm holds a small pink sapphire encased between two pieces of sapphire crystal. The sapphire is able to "swirl and dance," while allowing light to come through.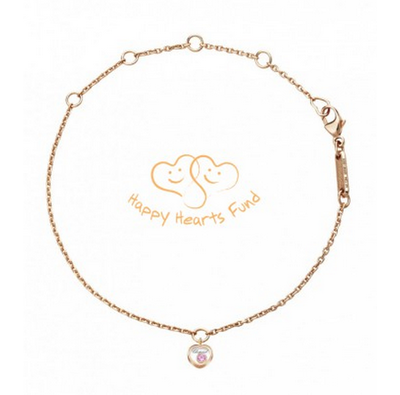 Chopard's Happy Diamonds Icons bracelet
The Happy Diamonds Icons bracelet is exclusive to Chopard's ecommerce Web site and can be bought for $1,540.
Chopard has pledged 17 percent of sales from its Happy Diamonds Icon bracelet to go toward helping the Happy Hearts Fund rebuild schools damaged in natural disasters around the world.
Since its inception in 2005, Happy Hearts Fund has rebuilt or built 72 schools in seven countries, which has benefited the lives of more than 44,000 children. Its mission is to restore hope and opportunity in the lives of children in the aftermath of a natural disaster by organizing sustainable practices with a long lasting community benefit.
The partnership between jeweler and charity has been actively promoted on the social media pages of both to increase exposure.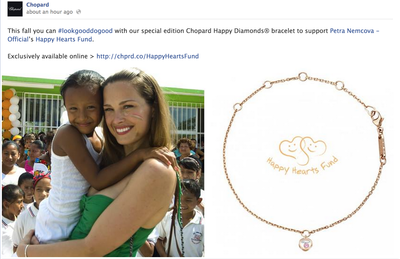 Chopard's Facebook post with a photo of Ms. Nemcova on the left
The hashtag #LookGoodDoGood is used to increase the exposure and generate additional conversation.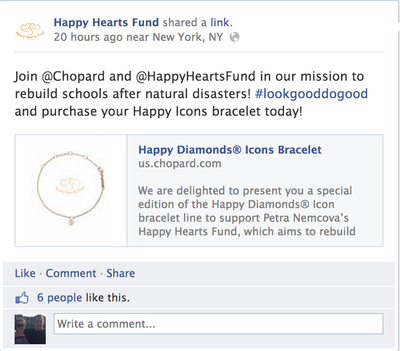 Happy Hearts Fund's Facebook post with #LookGoodDoGood hashtag
From the heart
Working for the greater good, whether with partners or a brand-organized charity, allows luxury brands to engage with consumers beyond the point of sale.
For example, Italy's Gucci is teaming up with Twitter to continue the charitable efforts of its Chime for Change organization Dec. 5-7 with a hackathon called "Chime Hack" to create mobile applications to assist women and girls in need.
The organization opens up a dialogue between tech-savvy and fashion-forward philanthropists and celebrates women in the technology industry, while helping those in need. Focusing on the three core areas of Chime for Change's mission – education, health and justice – Gucci seeks to make a difference without any attention paid to profits (see story).
In addition, French fashion label Christian Dior held its Dior Auction Oct. 1-10 where exclusive items and experiences were auctioned off to raise funds for cancer organization Look Good Feel Better that helps women cope with the physical and emotional toll taken by cancer.
Dior was able to align itself with admirable values with this auction that gives 100 percent of proceeds to Look Good Feel Better. By partnering with a charity, brands are able to give back to the community while also attracting positive attention (see story).
When a brand is personally involved with a cause, enthusiasts are likely to play an active role.
"The concept of the partnership was conceived after Caroline Scheufele, co-president and artistic director of Chopard, spoke with Happy Hearts Fund founder and chair, Petra Nemcova," Ms. Veres Royal said.
"Ms. Nemcova survived the 2004 Indian Ocean tsunami, and turned tragedy into hope for the thousands of children and tens of thousands of community members that have been reached through Happy Hearts Fund," she said.
"Ms. Scheufele was extremely moved by Petra's story and the work of the organization, and wanted to support this important cause."
Final take
Jen King, editorial assistant on Luxury Daily, New York