Toyota Corp.'s Lexus is gearing up for the Specialty Equipment Market Association Show Nov. 5-8 with an executed version of the winning deviantArt contest design that embodies the brand's receptive relationship with its fans.
VIP Auto Salon, Orange, CA worked for more than 10 weeks on Robert Evans' winning design that features an aero styling package, a carbon interior option, special three-piece wheels and a custom paint job. Mr. Evan's won a one-year lease for a 2014 Lexus IS F Sport among other prizes and his design will be a centerpiece at the SEMA Show.
"Typically for a project of this magnitude we would budget at least three to four months," said Bill Kwong, public relations specialist at Lexus division communications, Los Angeles. "Aside from time, the main physical build challenge was replicating all the fine lines and details of the winning design during the shaping process.
"Usually when builders create 'wide body' enhancements you would normally start with the wheels and then build around them," he said. "Because of the designer's near unrealistic wheel design there wasn't anything available in the market that the builder could have utilized for a mock wheel and, unfortunately in our case, they went into the shaping process blind.
"They did things a bit backwards shaping first and then did the mathematics to build the proper fitting wheels to the fender flares. The whole project in its entirety was a challenge and there are so many smaller challenges experienced during the build process but these were the main ones."
Community-driven
Judges for the deviantArt contest studied more than 600 submissions before selecting the winning design.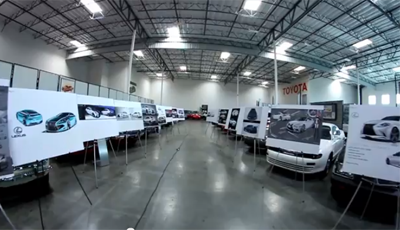 deviantArt submissions during judging process
Lexus teamed up with deviantART to let fans flex their creative abilities by designing the exterior of a 2014 Lexus IS through Aug. 12 for a chance to win glory at the SEMA Show in Las Vegas.
The contest allowed fans to use a broad range of materials, from digital programs to pencil and paper, to increase the variety of submissions and maximize the interest surrounding the contest. Creating a dialogue with fans that calls for not just input, but also ingenuity, most likely created brand enthusiasts as entrants submitted their own vision (see story).
Mr. Evan's design was deemed the winner for its compatibility with Lexus' brand image, originality and the plausibility of its execution. The winning designer also won $2,000, a trip to the SEMA Show, 8,000 deviantArt points and a one-year premium membership to deviantArt.
Lexus released a video that explores the judging process by Lexus and the team at VIP Auto Salon.
Lexus at SEMA Show pt. 1: Judging the entries
The brand posted photos of the vehicle's development on its social media pages.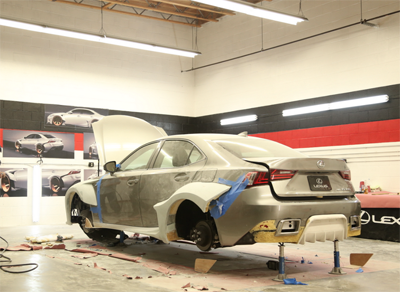 Winning design
A press conference will be held Nov. 5 to discuss this year's SEMA lineup that includes seven other Lexus IS builds and a LFA model.
Disruptive
Lexus has engineered a far-reaching and diverse campaign for its 2014 IS model.
For instance, the automaker broadened its cross-media campaign for the 2014 Lexus IS with an interactive microsite that encouraged fans to create an "Amazing Mix" for a chance to win tickets to the 2014 Pebble Beach Food and Wine Festival, overnight accommodations and $2,000.
The Amazing Mix microsite enshrined the 2014 Lexus IS on a raised platform and let users experiment with a number of inputs that transform the screen (see story).
Also, Lexus generated interest in the IS model during New York Fashion Week with a live holographic performance art experience that showcased the brand's penchant for devising creative ways to engage fans.
The "Lexus Design Disrupted" event centered on the brand's commitment to technology design and featured model Coco Rocha and a retrospective from the archives of designer Giles Deacon. Structuring the event around a broad theme rather than the IS model itself allowed Lexus to reach greater creative heights and stand out in a crowded arena (see story).
Cumulatively, the various IS initiatives have further vivified Lexus' brand image in the public's imagination.
"We believe the contest has generated a decent amount of buzz among fans," Mr. Kwong said.
Final take
Joe McCarthy, editorial assistant on Luxury Daily, New York