Family-owned Hermès is gaining exposure for young international designers through its annual Prix Émile Hermès awards that reflect the brand's Fondation d'entreprise Hermès's ongoing commitment to artisan skills and forward-thinking creativity.
Since 2008, the Prix Émile Hermès prize has been awarded to purposeful designers whose work embodies the notion that a higher-quality life can be achieved through design. By supporting the artisan skills of blossoming designers, Hermès simultaneously shines a light on its own craftsmanship.
"New designers can leverage Hermès's already large base of consumers, and piggyback on their public relation efforts around this initiative," said Lauren Klostermann, head of industry for fashion at Blue Moon Works, Denver, CO.
"With the increasing emergence of shows like 'Project Runway,' the general public are becoming more and more interested in discovering the next new designer, and Hermès is smart to leverage this mentality," she said.
"Hermès is also taking this to the next level, by accepting entries that look at all aspect of design, even outside of clothing. They understand that their audience appreciates a well-designed lifestyle, even outside of clothing."
Ms. Klostermann is not affiliated with Hermès, but agreed to comment as an industry expert.
Hermès was unable to comment before press deadline.
Designs for change
Above all, the Fondation d'enterprise Hermès international design prize promotes innovative creations made to benefit evolving societies and lifestyles around the world.
Hermès scouts young designers and prompts them to design "original, timely designs reflecting society's changing lifestyles and aspirations," per the brand.
In 2008, the Fondation d'enterprise Hermès received 700 submissions for its "Everyday Lightness" Prix Émile Hermès award. The 2011 competition grew in popularity with 1,460 designers from 63 countries entering for the "Heat, me-heat, re-heat" edition. The competition's growing submissions shows that the Prix Émile Hermès has been significant in launching the careers of international designers.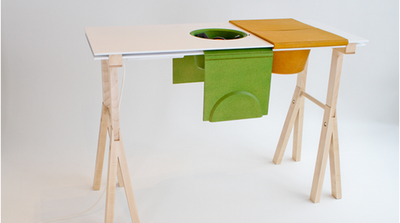 Winning design of the 2011 Prix Émile Hermès, designed by Arnaud Le Cat, Esther Bacot and Luther Quenum
The competition places a heavy emphasis on creativity and artisan skills that must be followed through from initial design to prototype.
Prix Émile Hermès is named after Émile Hermès who lead his family's brand toward innovation during his three-decade long tenure. This was accomplished by expanding the Hermès's product range, Mr. Hermès's focus on the relationship between craftsman and product and his revolutionary and innovative design ideas.
With this in mind, the prize is awarded to the design that will be most applicable in creating a sustainable future by taking a responsible, eco-friendly approach.
To increase entries and awareness for the Prix Émile Hermès, the parent brand has posted announcements on its Facebook page.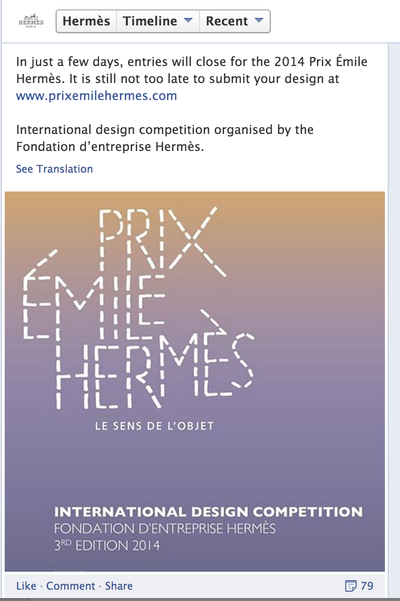 Hermès Facebook post
The theme for the third Prix Émile Hermès is "Time to yourself," meaning a moment of leisure where one can relax and decompress from the stresses of modern life.
Designers must take into account the "lifestyles, postures, gestures and the social and cultural needs of individuals, everywhere" to create objects ranging from devices to compartments and from small-scale architectural modules to furniture, according to the foundation's Web site.
Designer entries must not relate to fashion or clothing and in no way reference the Fondation d'enterprise Hermès's parent company, Hermès.
Entries can be submitted via the Fondation d'enterprise Hermès's Web site until Nov. 17.
Outside influences
Recently, other brands have launched large-scale design initiatives that reach beyond their core consumer base.
For example, Toyota Corp.'s Lexus geared up for the Specialty Equipment Market Association Show Nov. 5-8 with an executed version of the winning deviantArt contest design that embodies the brand's receptive relationship with its fans.
VIP Auto Salon, Orange, CA worked for more than 10 weeks on Robert Evans' winning design that features an aero styling package, a carbon interior option, special three-piece wheels and a custom paint job. Mr. Evan's won a one-year lease for a 2014 Lexus IS F Sport among other prizes and his design will be a centerpiece at the SEMA Show (see story).
Similarly, hotel company Dorchester Collection continued to champion young talent by shortlisting four designers in the fourth annual Dorchester Collection Fashion Prize that was opened up to applicants from all countries where the brand is located.
The shortlisted designers included Barbara Casasola, Fyodor Golan, Emilia Wickstead and Huishan Zhang, each of whom staged a runway show Oct. 29 at The Dorchester, London. Bringing together two frontiers of the luxury industry allowed the hotel brand to attract new consumers and display its understanding of luxury's status as a holistic rather than fragmented worldview (see story).
The youthfulness and sustainable approach of Hermès's design competition is likely to resonate with a younger demographic.
"The design award is targeted specifically at new and upcoming designers, under the age of 40, which naturally translate to a younger audience," Ms. Klostermann said.
"Also, Hermès is focusing on the sustainable aspect of design through this contest, which resonates with a younger audience as well," she said.
Final take
Jen King, editorial assistant on Luxury Daily, New York