France's Cartier is honoring its heritage with an exhibit inside the Grand Palais in Paris that allows visitors to explore the jeweler's role in the history of fine jewelry as art.
From Dec. 4 through Feb. 16 visitors to the "Cartier. Le Style et L'Histoire" exhibit can view more than 600 pieces that represent Cartier's legacy from its founding in 1847 through the mid-1970s. Organizing a museum exhibition that showcases heritage helps enthusiasts better understand the brand while highlighting a brand's accomplishments for unfamiliar attendees.
"The benefit of the large exhibit is quite simply to position Cartier as an industry leader with a broader reach then other jewelers," said David Schoenecker, principal at Koda, Phoenix.
"From what I can tell, this exhibit is incredible and the exclusivity of the items on display are a rare find," he said. "This alone will garner massive exposure for the brand.
"The fact that Cartier is able to acquire inaccessible and rare pieces shows their audience that they've been successful in curating treasures that few could lay claim to."
Mr. Schoenecker is not affiliated with Cartier, but agreed to comment as an industry expert.
Cartier did not respond by press deadline.
One from the vault
Housed in the Salon d'Honneur room of the Grand Palais, the Le Style et L'Histoire exhibit will be the the largest Cartier exhibit held in Paris since 1989's retrospective at the Petit Palais.
Cartier commissioned the Réunion des Musées Nationaux's Laurent Salomé and Laure Dalon to curate the exhibit. The pair choose to approach the exhibit from an art history perspective to further highlight Cartier's relation to style, design and artistic expression through jewelry.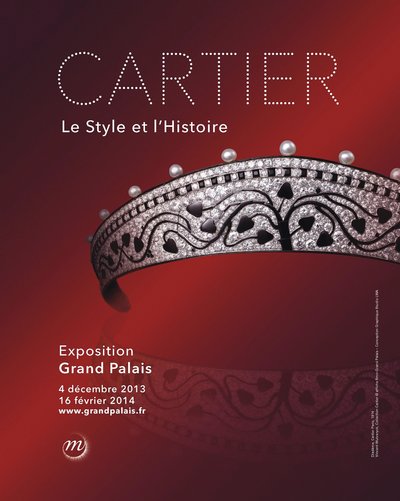 The exhibition's 600 pieces are being presented side-by-side for the first time and includes pieces that belong to either the Cartier Collection or have been loaned by private citizens, museums or institutions. Pieces are meant to serve as a "testament to the rich and intricate history of the Jeweler to the Kings and the King of Jewelers," per a brand statement.
In addition to jewelry, accessories and watches, an array of more than 300 complimenting documents will be on display to give visitors insight into Cartier's creative process. Documents from the archives of Cartier include notebooks, drawings, order books, inventories, plaster casts, autochromes and photographs.
To build awareness for the exhibit, Cartier held a three-day countdown on its Facebook page. Keeping the countdown messages short, Cartier simply stated the exhibit's purpose, featured pieces owned by famous figures and, on the day before the opening, shared a minute-long video teaser.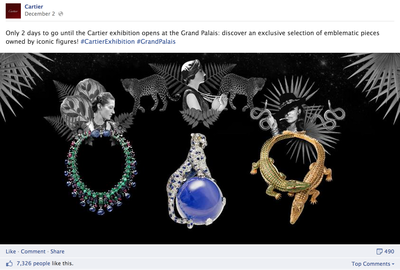 The video begins with a zoomed in shot of an onyx, pearl and diamond tiara also shown in the first day of Cartier's exhibition countdown. The tiara fades away to show a black and white photograph of actress Jane Birkin and french singer Serge Gainsbourg as the pair hold a necklace up to Ms. Birkin's neck.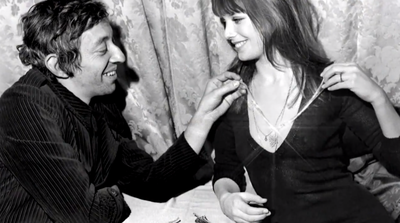 Mr. Gainsbourg and Ms. Birkin, still
Cartier's video continues with an action shot of actress Elizabeth Taylor near a swimming pool in a necklace and earring set. Ms. Taylor moves her head back and forth allowing the diamonds to shimmer in the sunlight.
This scene is followed by a clip of actress-turned-princess Grace Kelly's wedding procession where Ms. Kelly wore a Cartier tiara. The procession is followed by a close up, revolving shot of the tiara.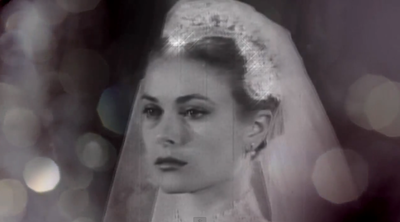 Ms. Kelly, still
Additional icons featured in the video include Italian model and actress Monica Bellucci wearing a replica of Cartier's crocodile necklace made famous by Mexican actress Maria Felix in 1975, Britain's Queen Elizabeth II and Princess Kate and actress Gloria Swanson.
Cartier au Grand Palais, le teaser
Cartier pieces such as its bangle bracelets, necklaces, diamond rings, strands of pearls and large diamond-encrusted brooches were also shown. All of the pieces featured in the video have been reworked during production to make the diamonds sparkle more vividly.
Big picture exhibits
Museum exhibitions allow a brand to tell its story in a curated context that conveys value in a broader context.
For example, Italian fashion house Fendi, in an interesting twist of enlivening its narrative, is telling the story of its history as a furrier through a traveling exhibit that recently made its way to Beijing, itself a clear recognition of China's growing clout in the luxury market.
To coincide with the exhibit, the brand has created a page on its Web site that features content from the show with multimedia elements, including photos, sketches and videos of iconic Fendi fur pieces. The Web site will likely build excitement as viewers wait for the exhibition to arrive at a city near them, and will give those users who cannot travel to one of the exhibit locations the opportunity to participate and learn about the brand (see story).
Similarly, French fashion house Christian Dior aimed to further align its women's fragrance Miss Dior with international artists during a two-week exhibition at the Grand Palais in Paris.
Opened on Nov. 13, the free "Esprit Dior, Miss Dior" exhibit was dedicated to the heritage of the brand's first fragrance created in 1947 to accompany designer Christian Dior's "New Look" collection. The exhibit highlighted the fragrance's inspirations through the work of 15 international female artists who were given "carte blanche" to explore Miss Dior's scent, bottle silhouette, its muses and history (see story).
A surefire way to attract an audience is to open an exhibit that focuses on a brand's heritage and position in its industry.
"Heritage is a huge component of a luxury brand's value position and overall presence in the marketplace," Mr. Schoenecker said.
"History is something that you either have or you don't," he said. "You can't create it so it's a competitive advantage when you have it and something to work around when you don't."
Final Take
Jen King, editorial assistant on Luxury Daily, New York