Fourteen London-based fashion labels, including Burberry and Alexander McQueen, partnered with Britain's Office of Charity's organization Save the Children on a collection of sweaters to be auctioned through text to benefit the charity.
The "Woolly Big Text Auction" is part of Save the Children's Christmas Jumper Day, in which people wear holiday sweaters to raise awareness and funding for the organization. By participating in this charity event, the designers are able to show their philanthropic and human side.
"Too often fashion brands get caught up in their own self-importance," said David Doze, president/CEO of Pilot PMR, Toronto.
"It is always good to see major industry players let down their hair and have a little fun," he said. "It is a simple gesture that humanizes the brand, which I am certain was part of the appeal for getting involved."
Mr. Doze is not affiliated with Save the Children, but agreed to comment as an industry expert.
Save the Children U.K. was unable to comment by press deadline.
Fashion for good
Save the Children works around the world to save children's lives, fight for their rights and help them have a better future.
The organization hosts an annual event, Christmas Jumper Day, in which participants wear a holiday sweater. This year the event was held on Dec. 13.
Save the Children suggests that partakers wear their sweaters out in a public place to raise awareness. A donation of at least $1.60 is suggested.
This year, the charity partnered with the British Fashion Council and Westfield to add a luxe sweater auction to the event.
Fashion label Wool and the Gang designed and knit a basic sweater, which other U.K.-based designers and labels put their own spin on.
Alexander McQueen's sweater is solid ivory, with 3-D appliqué foliage. Burberry's mimics its holiday "With Love" campaign, with Big Ben knit at the bottom in black with hearts surrounding it.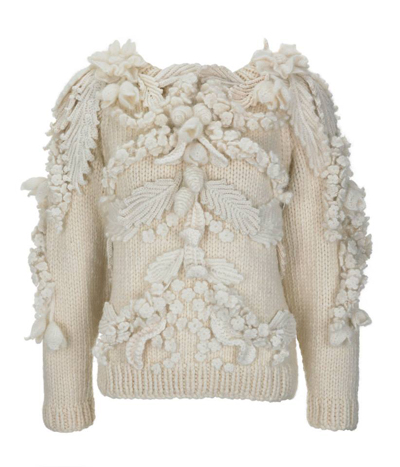 Alexander McQueen's sweater for Save the Children
Other participating designers are Anya Hindmarch, David Koma, Giles, Henry Holland, Jonathan Saunders, Mary Katrantzou, Matthew Williamson, Paul Smith, Peter Pilotto, Sibling, Vivienne Westwood and Wool and the Gang.
Consumers can bid on individual sweaters by texting in the name of a designer. Each bid costs $2.44, so Save the Children is able to raise funds with the interest and buzz that this auction will attract.
In a twist on the typical auction, the lowest unique bid will win the prize. Save the Children is limiting the number of bids each person can place.
The auction began Nov. 20 and will close Dec. 30. The sweater collection will be on display at the Village at Westfield London shopping center until Dec. 30, housed in an installation created by artist Stewart Semple.
A number of the brands participating have publicized the auction on their social media accounts.
Mary Katrantzou posted an image of the designer's floral sweater surrounded by Christmas trees, giving her followers the number to text to donate to Save the Children.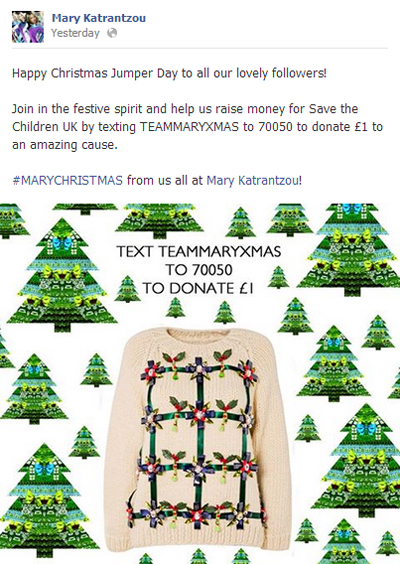 Facebook post by Mary Katrantzou
Burberry tweeted a link to the auction page to its followers.

Tweet from Burberry
Community service
Partnering with a charity is one way for a luxury brand to show its heart and make a difference by using its clout.
For instance, Swiss watchmaker Jaeger-LeCoultre lent its support to the (RED) Foundation by including two custom timepieces that were part of a larger capsule collection auctioned off at Sotheby's New York on Nov. 23.
Part of a larger capsule collection containing 44 items, Jaeger-LeCoultre's contributions were customized by Sir Jonathan Ives, senior vice president of design at Apple, and industrial designer Marc Newson. Curated collections for charity initiatives are likely to entice affluent bidders due to the limited availability of the items and the degree of authenticity imparted by the theme (see story).
A limited edition item can make a luxury brand's charity initiatives more noticeable.
For instance, LVMH-owned Hennessy is appealing to philanthropic cognac drinkers with limited-edition magnum bottle of Hennessy V.S with label artwork designed by renowned Brazilian artists Os Gêmeos.
Proceeds from the limited-edition bottle, available only at select retailers, will benefit Brazilian charity Reciclazaro. With spirits among one of the most gifted items during the holiday season, Hennessy is likely to see a rush of interest in this bottle due to its connections to both art and charity (see story).
"It is astonishing how the homely jumper has risen in stature in recent years," Mr. Doze said. "Save the Children has tapped into a meme that is delivering millions of pounds toward their good works.
"In this context, it is a no brainer for a brand to get on board," he said.
Final Take
Sarah Jones, editorial assistant on Luxury Daily