Do affluent travelers pay attention to the spate of New Year's Eve offers by luxury hotels, or do they stick with experiences that they know they can trust?
The massive amounts of money consumers spend on New Year's Eve and the chance to imprint a traveler with a memorable experience that triggers repeat visits makes the holiday one of the most highly anticipated of the year. Whether New York hotels are hosting pre-parties, dinners, parties or holistic events, they are all trying to divert some of the thunderous traffic into their lobbies.
"As always, people are looking for a unique experience," said Damon M. Banks, director of DMB Public Relations, New York. "Some options this year include a Great Gatsby New Year's Eve and Downton Abbey party.
"A unique experience and enticing package is always popular," he said.
"While in many cases, people enjoy celebrating at a known place with their friends and family, many hotels have some variety of ticking offers and packages for New Year's Eve."
One celebration
While it is hard to foresee which properties will bring in the most guests, noting their varying tactics sheds some light on their prospects.
Four Seasons New York is opening its bar at 5:30 p.m. and has New Year's festivities running from 9 p.m. to 2 a.m. with "party favors galore."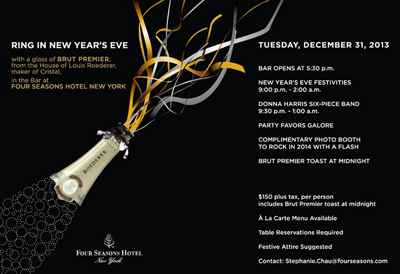 Four Seasons New York NYE event
The Waldorf Astoria New York is inviting travelers to dine at its restaurant for a quiet evening or as a precursor to a more high-energy experience. Similarly, The Peninsula Hotel New York will be greeting guests at The Clement restaurant to prepare guests for the evening.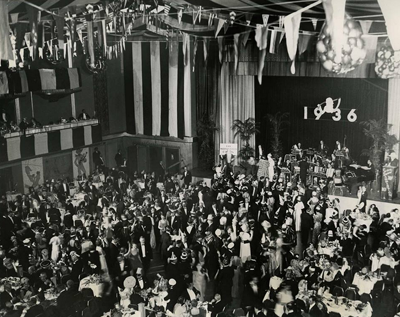 Waldorf Astoria New York for New Year's Eve
Champagne brand Veuve Cliquot is sponsoring Trump SoHo's party that is aiming for distinction with food from its sushi bar and views from the 46th floor.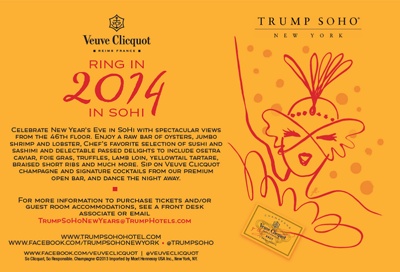 Trump SoHo
Fairmont's The Plaza is reeling guests in with two packages. A "Great Gatsby" package includes dinner and dancing in the Lamb's Club and a stay in the Fitzgerald Suite and also a package that includes an all-access pass to the Dream's New Year's Eve party hosted by rapper Macklemore.
Langham Place, Fifth Avenue is centering its offer on two tickets to its celebration in the Measure Lounge.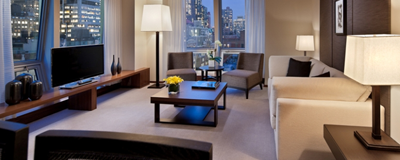 Langham Place, Fifth Avenue
Final push
To gain last-minute attention for their celebrations, these hotels are turning to social media. Although measuring social media's effect on revenue is challenging, there is no doubt that it gets people talking.
Many luxury brands turned up the volume of their social pages for the winter holidays.
For instance, luxury marketers this holiday season sought to keep retention levels high by creating whimsical and nostalgic gift guides that achieved differentiation through seasonal animations.
Though the main objective of the holiday gift guide was to promote a range of products, brands and retailers found imaginative ways to highlight merchandise, or experiences, while keeping the season's symbols at the forefront. Many kept their guides simple using the standard, listed gift guide format, but the brands that stood out took advantage of animation, technological trends and social media (see story).
Since consumers may be worn out by the social media frenzy, some properties may be relying on past guests to return.
"Often, a hotel visited throughout the year will offer these packages and if the guests have enjoyed the experience, then there's a good chance they'll choose to also visit the hotel for New Year's Eve," Mr. Banks said.
Final Take
Joe McCarthy, editorial assistant on Luxury Daily, New York