French ski wear label Moncler opted out of the typical runway show again for its Grenoble fall 2014 presentation, choosing to place a 60-piece chorus in lit boxes on stage at the concert hall Hammerstein Ballroom in New York.
For Moncler's previous shows in New York, the brand has staged a flash mob at Grand Central Terminal with 200 models and had models skate choreographed steps across Wollmann Rink in Central Park. While the spectacle of this performance kept viewers' attention both in-person and online, the fashion may have gotten lost in the process.
"Moncler's strategy is creating a unique experiential impact that surprises the guests," said Sophie von Shönburg, partner and creative director of experience at CuldeSac, Valencia, Spain.
"They have looked for an experiential way of bringing the brand values to life, the perfect balance of tradition and vanguard," she said.
Ms. von Shönburg is not affiliated with Moncler, but agreed to comment as an industry expert.
Moncler was unable to comment directly prior to press deadline.
Making music
Moncler presented its collection Feb. 8. The Grenoble collection is designed to function on both city streets and on a ski slope.
To reflect the brand's mix of traditional Alpine elements and modern technology, Moncler looked to the Pendulum Choir, a Swiss ensemble that uses the movement of its singers' bodies to affect its sound.
The show began with a dark stage and the low hum of the chorus. As the curtain rose, a group of singers on hydraulics and the light grid behind them became visible.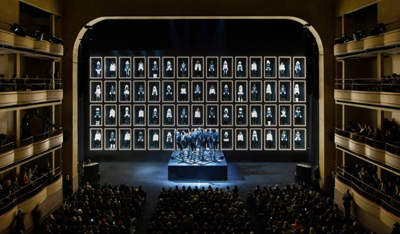 Moncler fall 2014 show
Moncler's grid of boxes was then illuminated, revealing the chorus members inside wearing black and white attire from the label. Timed to a shift in the music, the chorus members on stage, dressed in down-filled morning coats, started to move forward or backward on their platforms.
Along with the mood and tempo of the music, Moncler's models disappeared and reappeared as the lights turned on and off.
The show lasted 17 minutes, giving both fashion show attendees and fans watching at home a concert.
Moncler teased the show on social media, giving its followers hints, such as a video of the hydraulics that would be used and a video of the brand's trip to New York. The outerwear brand live-streamed the fashion show on its Web site and used social media to drive traffic.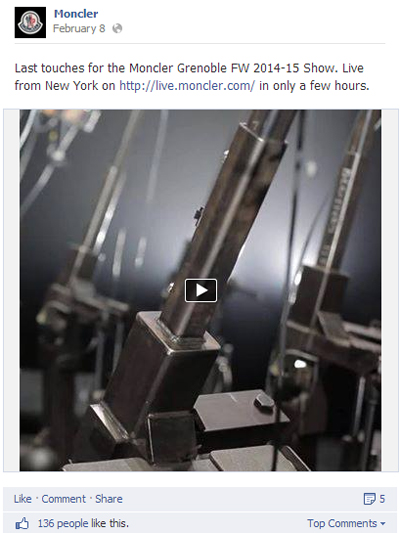 Facebook post from Moncler
After the show aired, Moncler posted the footage to its social media accounts as well.
Standing out
Moncler has previously tapped musicians to lend their artistic talent to the brand's marketing efforts.
The label tapped Grammy Award-winning singer-songwriter and producer Pharrell Williams for its eyewear collection promotions.
The brand's Moncler Lunettes launched in early 2013 and is Moncler's first eyewear line. Moncler likely generated interest by launching this new product line with a well-known and influential celebrity (see story).
Adding a layer of performance to a runway show is a way for a brand to ensure more views and a more memorable viewing for its fans.
U.S. fashion brand Diane von Furstenberg is partnering with American Express on a year-long series of events exclusively for the credit card company's cardholders as part of an ongoing campaign to celebrate the 40th anniversary of the brand's wrap dress.
The partnership began with a live-stream of DVF's fashion show, hosted on both the fashion label's Web site and American Express Unstaged, which brings events to the company's registered members through online video. By teaming up with American Express, DVF will have access to affluent individuals looking to purchase its apparel and accessories (see story).
"I think the chorus highlighted the show aspect but possibly as far as I can see from the images, it distracted from the detail of the fashion," Ms. von Shönburg said. "From the feedback I have seen on social media, the live streaming was impeccable and therefore a great way to spread the reach of the show."
Final Take
Sarah Jones, editorial assistant on Luxury Daily, New York