Condé Nast-owned British Vogue and London department store Harrods are striking a partnership for the third annual Vogue Festival March 29-30 to create a high-end, stylish experience for fashion-minded attendees.
For the festival's inauguration in 2012 and the following year's installment, British smartphone manufacturer Vertu joined British Vogue as a partner. This year, with Harrods at the helm, the Vogue Festival will likely attract a larger amount of fashion-forward guests due to the retailer's status.
"The Vogue Festival has become one of the most hotly anticipated weekends on the fashion calendar and attracts the next generation of fashion stars," said Chiara Varese, customer relations marketing director at Harrods, London. "It's an opportunity for us to encourage, inform and hopefully inspire tomorrow's designers, stylists, models.
"We are pleased to be able to bring some of the most exciting elements of the Harrods brand to the festival, including our digital interactive style experience, The Harrods Live catwalk," she said. "Harrods has been part of the fashion landscape for over 120 years. Although we started out as a grocery shop, we are now probably best known for our fashion and accessory rooms, which are home to collections from the top international luxury designers.
"Among aspirational consumers we already have a reputation for excellence. The next generation may not yet have discovered us, yet."
A weekend of fashion
The Vogue Festival will be held on the weekend of March 29 at Queen Elizabeth Hall in London's Southbank Centre. Tickets went on sale for the general public Feb. 20, while Southbank Centre members had access to presale tickets Feb. 19.
During the two-day event, ticket holders are invited to attend interviews, panels, trend talks and workshops that explore hot topics and trends in the fashion industry. While attending festival events, attendees will be offered a "unique insight into [the] lives and work" of designers, photographers, celebrities, models and fashion editors.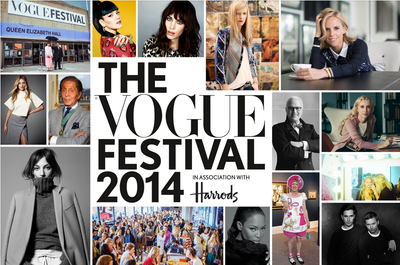 Promotional image for The Vogue Festival 2014
In addition to sponsored seminars, the Vogue Festival will include Show and Tell stations where budding fashion designers can show sketches and designs to Vogue editors for feedback. Leveraging the event to spur creativity will leave a lasting impression upon guests who strive to see their collections in the pages of Vogue or in Harrods' windows.
As of Feb. 20, confirmed speakers include British Vogue editor in chief Alexandra Shulman, Vogue Italia editor in chief Franca Sozzani, Jack McCollough and Lazaro Hernandez of Proenza Schouler, supermodels Karlie Kloss and Naomi Campbell, pop star Lily Allen, Russian fashion blogger Miroslava Duma, Manolo Blahnik and Valentino Garavani.
Also, the Festival will include a Vogue shop and cafe, styling talks, makeovers and a Vogue cover shoot.
A program for the Vogue Festival events and ticket information can be found at http://www.vogue.co.uk/special-events/vogue-festival-2014/programme/saturday.
To pique the interest of Harrods consumers and increase attendance at The Vogue Festival, the retailer posted to its social media accounts regarding its own involvement. Although Vogue is a household name, Harrods has its own audience that may be interested in attending but do not necessarily subscribe to Vogue's publications.
During The Vogue Festival, Harrods will hold its first HarrodsLive Street Style Competition, where the retailer will celebrate trendsetting fashion talents that "filter from the street up." Entries come at a price, as the competition is only open for those with a ticket for The Vogue Festival.
Held on the ground floor of Queen Elizabeth Hall, participants will walk down the HarrodsLive catwalk to show off their personal street-inspired style. The participant's final looks will be captured and projected onto large screens throughout the event space as well as a digital snapshot to be uploaded to the participant's Instagram using the hashtag #HarrodsLive.

HarrodsLive promotional image, seen on Harrods' Facebook
The top 20 photographs with the most likes will then be presented to Vogue's Ms. Shulman and Harrods fashion director Helen David to select a panel winner. The shortlist will also be uploaded to Harrods' Facebook to determine a Public Winner based on likes. Both the public and panel winner will be awarded $1,665.
Attendees are encouraged to generate buzz about the Vogue Festival and the HarrodsLive catwalk competition by using the branded hashtags #HarrodsLive and #VogueFestival on Twitter and Instagram.
Popular picks
Campaigns and other initiatives by retailers can seem more inviting when a space is set aside for consumers to express themselves.
For example, department store chain Neiman Marcus is accepting submissions for its fall 2014 beauty campaign Feb. 10 through March 31 to find women who represent the retailer's everyday consumer.
Neiman Marcus' "Be You, Be Beautiful" beauty campaign submissions are uploaded through the retailer's Facebook page to ensure a wider reach via shares. By accepting submissions from across the United States, Neiman Marcus will gain exposure in markets that the retailer has yet to established a bricks-and-mortar presence (see story).
Retailers aiming to convey status among competitors benefit from linking up with credible partners in unexpected fields.
For instance, Harrods partnered with British Airways to host a fashion show mid-flight on an A380 plane.
Two hundred guests sipped Champagne as they watched models walk the aisle of the plane wearing British designers (see story).
This partnership between British Vogue and Harrods shows a mutual dedication to strengthening the British fashion industry.
"British designers are making waves during London Fashion Week, and with the press surrounding Peter Pilotto's Target collaboration, British fashion is at an all-time high," said Anna Natsume, account executive at The O Group, New York. "To top it off, the popular London-based online retailer Net-A-Porter just launched their own print magazine, Porter, in early February.
"All of this makes this festival and Vogue's partnership with a prestigious retailer like Harrods seem like a perfectly-timed, mutually beneficial collaboration," she said. "Print magazines continue to play a significant role in promoting fashion designers and retailers.
"This festival is packed with a multitude of events that allow consumers to interact with designers, editors and celebrities, and give them backstage access to the fashion industry. It's a thoughtful evolution of what fashion industry events could be, promoting meaningful engagement between all the people who support the fashion industry."
Final Take
Jen King, editorial assistant on Luxury Daily, New York