Britain's Land Rover is augmenting its position in the world of sailing through a partnership with the Red Bull Extreme Sailing Team.
Already the lead sponsor of the Extreme Sailing Series, the automaker's alignment with Red Bull demonstrates a larger commitment to intrepid performers. Land Rover's well-considered partnerships and sponsorships resonate with consumers who have come to regard the brand as a beacon of a boundary-pushing lifestyle.
"Land Rover's brand mantra of 'Above and Beyond' is very well aligned to Red Bull's brand positioning of going beyond the ordinary," said Lydia Haley, senior press officer at Jaguar Land Rover, Coventry, England. "We will work together to create extraordinary experiences.
"Both Land Rover and Red Bull like to create great customer experiences and content," she said.
"Through the partnership there will be many opportunities to access unique experiences which can be shared with all audiences."
Clear orders, choppy waters
Land Rover first made steps toward extreme sailing alignment in April when it became a series main partner. However, the brand first aligned itself with sailing in general in 1988 by sponsoring Cowes Week, the home of British yacht racing.
The stadium style of racing seen in Extreme Sailing Series means that contenders race in an enclosed course for challenges such as straight line duels and speed trials.
Teams must use Extreme 40 catamarans, or two-hulled boats. A breakdown of the event can be read here.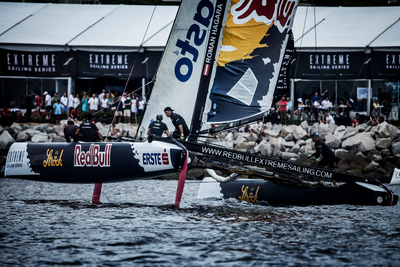 Red Bull Extreme Sailing team in 2013
The Red Bull team features two two-time Olympic gold medal winners, Roman Hagara and Hans Peter Steinacher. Mr. Hagara is the skipper, while Mr. Steinacher is the tactician, meaning that he plans the course and anticipates all variables such as weather.
The pair won a bronze medal in the Extreme Sailing Series last year and are pegged as the team to watch in the upcoming event.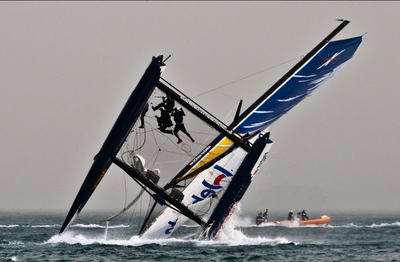 Red Bull Extreme Sailing team in 2011
The second of the series' 8 acts took place March 19-22 in Muscat, Oman. Act 3 will take place May 1-4 in Qingdao, China.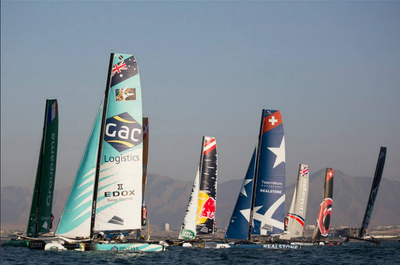 Act 2 of Extreme Sailing Series
Land Rover will provide vehicles to the team for transportation of equipment. The automaker identifies its vehicles as analogous to the boats used in the race in terms of lightness and the ability to withstand harsh conditions.
Plus, the partnership enables Land Rover to develop more sailing-related content that it can display on social media.
"The Red Bull Extreme Sailing Team are an excellent addition to our sailing sponsorship portfolio providing access to the team who have a wealth of experience and a catalogue of titles under their belt including Olympic medals," Ms. Haley said.
"They will allow us to tell stories of the skipper and crew, for example, what it takes to get to the top of sailing, what it is like to be in the Extreme Sailing Series," she said.
Happy marriage
Certain sports are a natural fit for luxury brands.
For instance, polo is a sport with global appeal that nonetheless has a high barrier to entry. Unlike many mainstream sports that simply require land and a ball, polo calls for a horse, which instantly shears away those without the necessary means.
Also, the affluent gravitate toward the sport precisely because of this exclusivity. Discussing and playing polo acts as a kind of status currency, with the most versed participants able to groom their social standing.
Obviously, luxury brands stand to gain by displaying an affinity for polo, not only because it reaches a concentrated audience, but also because it boosts reputation among this preferred clientele (see story).
Land Rover has shown an astuteness when it comes to athletic alignment.
"The Extreme Sailing Series is a unique concept, pitting some of the very best professional sailing teams in the world against each other on identical Extreme 40 catamarans, on challenging, tactical courses, but close to shore to provide spectacular, stadium-style entertainment for the public," Ms. Haley said.
"The original Stadium Racing format pioneered by the Series in 2007 has been revolutionary for the sport," she said. "It has brought the boats and action close to the public like never before, each race lasts between 12-18 minutes and as many as eight races will take place in one day.
"Extreme Sailing Series is one of only four global sailing events that is endorsed by the International Sailing Federation, the other three being the America's Cup, Volvo Ocean Race and World Match Racing Tour."
Final Take
Joe McCarthy, editorial assistant on Luxury Daily, New York