NEW YORK - The president of Hudson's Bay Company said that the conglomerate is bent on rapidly expanding its retail presence at the eighth annual Columbia Business School Retail and Luxury Goods conference.
Whether courting other department stores to add to its portfolio or developing new locations, Hudson's Bay views real estate growth as key to staying competitive. Also, the president discussed how the company has revamped its digital performance, with Saks leading the way.
"We have to get big fast so we can spend the money that the competition is spending," said Donald Watros, president of Hudson's Bay Company, New York.
"What has been going on in the last five years is mind-numbing," he said. "The revolution is [happening] for those of us who are making it transparent to go between channels."
More space
Mr. Watros explained that Hudson's Bay evolved when NRDC Equity Partners acquired the company in 2006. The real estate background of the new owners compelled the company to reassess its property holdings, especially that of department store Zellers, which led to Target's acquisition of the chain in 2011.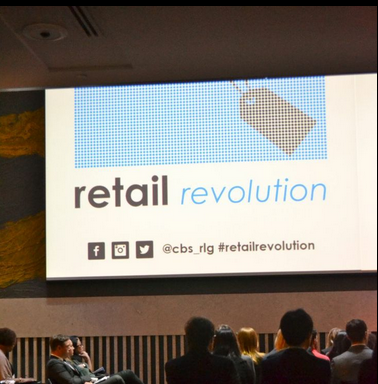 Columbia Business School Retail Revolution conference
Ridding itself of the Zellers, a "tired Kmart," allowed Hudson's to pursue other investments, most notably Saks Fifth Avenue in 2013 (see story).
Since then the brand has been searching for new players to add to its portfolio. Mr. Watros said that Nordstrom and Neiman Marcus were two brands that had been pursued.
However, fleshing out Saks' footprint throughout the U.S. and Canada will occupy the company for the time being.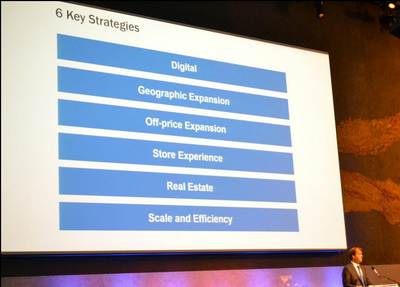 Columbia Business School Retail Revolution conference
Around $250 million will be directed to making Saks Fifth Avenue the premier shopping destination in New York. The brand has already pulled in the former chief merchant of Harrods, Marigay McKee, to act as president.
Ms. McKee has said that her first mission is to modernize the store in a way that appeals to younger consumers.
While Hudson's Bay has a sizable presence in North America, the company would like to expand overseas.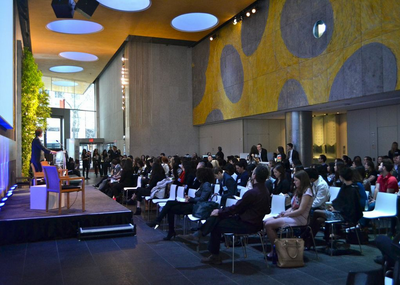 Columbia Business School Retail Revolution conference
The outlet chain Saks Fifth Avenue Off-Fifth will form another part of the retail expansion.
When asked if an outlet has the potential to gash the sales of a primary department store, Mr. Watros said that the only overlap between the stores concerns the consumers already hunting for mark downs at the original.
Digital revolution
Staying digitally relevant remains a top priority of Hudson's Bay.
"All the growth coming out of retail right now is ecommerce," Mr. Watros said.
Mr. Watros said that 70 percent of purchases at one of Hudson's brands are influenced by digital and that consumers who shop online and in stores spend three times as much, compared to those who shop in only one channel.
Canada's sputtering ecommerce scene has been documented.
A report by L2 and Google Canada found that a shabby omnichannel environment in Canada has pushed consumers to look across the border for ecommerce, clearing the field for Amazon.
Although the vast majority of sales occur in-store, Canadian consumers are beginning to tilt in the direction of ecommerce, which logically leads toward Amazon. However, if retailers effectively leverage bricks-and-mortar locations, they may be able to fend off the digital retailer (see story).
Hudson's Bay is making moves. The company tapped the former president of Saks.com to oversee digital marketing for all of its retail brands.
The new HBC Digital group, headed by Michael Burgess, will consist of experts who will create the ecommerce and marketing strategy for the group, applying best practices and sharing knowledge across the brands. Each of the retail chains under the HBC umbrella, including department store chain Saks Fifth Avenue, will benefit from shared knowledge, since the approach raises the ROI on digital marketing spend (see story).
"It's critically important to get these consumers moving between channels," Mr. Watros said.
Final take
Joe McCarthy, editorial assistant on Luxury Daily, New York