Luxury sponsors of the Masters Tournament April 10-14 at the Augusta National Golf Club in Augusta, GA, are getting ready for sustained interaction with the affluent audience that the event garners.
Mercedes-Benz, NetJets and Rolex are among the luxury brands that have partnered with the Masters. Although the absence of Tiger Woods has dampened the excitement, luxury brands involved in the tournament will still get plenty of exposure, since golf consistently garners high-net-worth fans.
"If there is one sport that most appeals to luxury brand buyers, it's golf," said Al Ries, founder and chairman of Ries & Ries, a Roswell, GA-based marketing strategy consultancy. "And, by far, the most prestigious golf tournament is the Masters.
"Therefore, it probably the best environment for a luxury brand to be associated with," he said. "A luxury brand needs to make a 'golf' connection in order to make the greatest impact on its audience.
"That can be difficult for some brands. But for others, it would make sense to use a golf spokesman like Arnold Palmer or Jack Nicklaus. And there are many rising golf stars that would be ideal spokespersons for a youth-oriented luxury brand."
Maintaining ties
After Tiger Woods declared that he would be missing this year's Masters, ticket prices began to fall. According to CBS Sports, 4-day tickets that initially went for around $4,000 dropped to $3,400 following the announcement.
The reduced price-tag remains a significant barrier to entry, so the audience will still skew toward affluence.
Throughout the tournament brands can meaningfully interact with these fans by setting up entertaining installations, providing product tours, offering refreshments and a various other ways.
Mercedes-Benz elevated the caliber of its partnership to global sponsor, which warrants greater visibility during the event and a prime space on the event's Web site. The two other global sponsors are IBM and AT&T.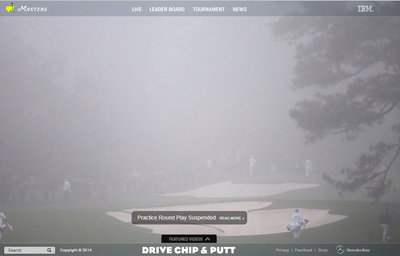 Masters Web site with Mercedes-Benz logo in bottom right corner
The automaker will be engaging with fans on social media throughout the event, primarily following the efforts of its brand ambassadors Adam Scott, winner of the 2013 Masters, and Rickie Fowler.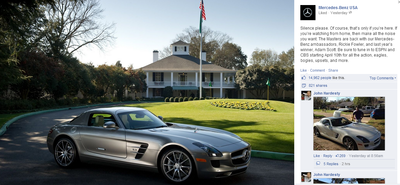 Mercedes-Benz USA Facebook post
Mercedes-Benz vehicles will likely dapple the course and brand activities may be available.
NetJets sets up a hospitality house to earn the trust of consumers. At the house, guests can escape the crowds to charge their phones, get breakfast, lunch and cocktails and access other privileges.
Rolex will be cheering for its brand ambassadors Adam Scott and Phil Mickelson.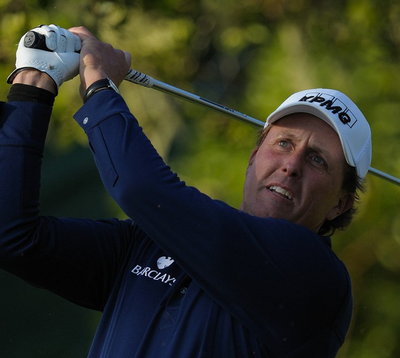 Rolex brand ambassador Phil Mickelson
A sport for luxury
Golf consistently commands high-end sponsors.
For instance, BMW of North America increased excitement for the Professional Golfers' Association's BMW Championship by incorporating the i3 model into different areas of the event last September.
Golfers Rory McIlroy and Gary Woodland competed in an i3 driving challenge and the first player to hit a hole-in-one on the 17th hole would receive an i3. Since the i series is helping to shape the brand's future, finding ways to incorporate it into traditional projects and events is helping the brand get the word out (see story).
Also, Swiss watchmaker Richard Mille targeted affluent female consumers with two partnerships that embed the brand in women's golf and demonstrate its commitment to top-tier performance in sports.
The watchmaker has become the major partner in the Lacoste Ladies Open Tournament and selected golf champion Diana Luna as the brand's first female sporting partner (see story).
Some golf tournaments afford more prestige, and therefore more long-term sales potential, than others.
"The Masters is the Super Bowl for UHNWI," said Chris Ramey, president of Affluent Insights, Miami, FL. "The environment is sophisticated and understated. It's not over commercialized. Your presence is an indication you've been anointed - not bought your way in.
"Brands are defined by the brands to which they associate," he said. "The Masters is the most sought-after association in sports; perhaps the world.
"Money doesn't drive The Masters. Affluence is so abundant that commercialism is considered crass."
Final take
Joe McCarthy editorial assistant on Luxury Daily, New York