British automaker Land Rover is enhancing its position in the travel planning arena through a partnership with luxury travel specialist Abercrombie & Kent.
The two brands will work together on a number of travel packages that bring guests to landscapes that fit with Land Rover's "off the beaten path" reputation. As luxury brands continue to evolve beyond specific categories into holistic arbiters of style, more players will likely enter the trip-planning sector.
"The partnership with Abercrombie & Kent will build on [Land Rover's] experience and combine the expertise of Land Rover Experience's specialist instructors and the capability of Land Rover's vehicles with Abercrombie & Kent's expertise and knowledge of luxury travel," said Mark Cameron, Land Rover brand experience director, London.
"The goal is to offer truly unique experiences that are only possible through such a partnership," he said.
"Land Rover and Abercrombie & Kent are two iconic British brands that are synonymous with adventure, exploration and luxury and by bringing the expertise of both companies together we can provide a unique offering in the travel market."
Off the path
Land Rover's well-known commitment to adventure and discovery gives the brand the latitude to venture into new sectors, especially when that sector revolves around adventure.
A crux of the partnership is the Land Rover Discovery, in which guests will be driving around.
Range Rover Sport
A few tours are currently available to interested consumers. First, the Best of Britain Tour takes guests through the countryside in central England and to the Land Rover center for design and engineering.
From Sept. 1 through Oct. 14, the program travels to Tanzania for four 10-day trips. During this adventure travelers will see the Serengeti, the Ngorongoro Crater and the Tarangire National Parks. Abercrombie's luxury mobile tented camps will house guests at night.
A stretch of the trip features rough terrain and abundant obstacles, such as big game, that will showcase the Discover's capability.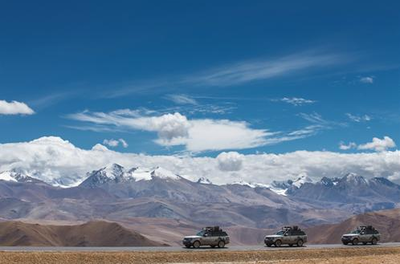 Land Rover and Abercrombie & Kent partnership
Another four tours between Nov. 1 through Dec. 11 bring consumers through the jungles of India where tigers will be scouted out as the Discovery traverses national wildlife parks.
Expert guides will be on hand to expound upon both region's wildlife, history and environment. Land Rover Experience instructors will also accompany the tours to help guests realize the full potential of the vehicles. Top cuisine and accommodations will await guests.
"This new program is a good way to allow potential buyers to experience the Land Rover product in an environment for which it is designed to excel," said Ron Kurtz, president of the American Affluence Research Center, Atlanta.
"Participants in such exotic or 'daring' travel programs can afford Land Rovers and may already be an owner, thus reinforcing the brand's relationship with its past customers," Mr. Kurtz said.
Broad array
The welter of travel programs emerging will raise the overall quality of trips, making consumers the winners. Other organizations have recently improved their offers.
Four Seasons is shoring up autonomy during its global travel programs by introducing a branded 52-passenger jet.
The retrofitted Boeing 757 will begin flying passengers of bespoke journeys in February 2015. Many of the hotel chain's journeys bring guests to a new country every other day, so being able to further curate a significant portion of the experience will reduce the chance for mishaps and increase the chance for branded connections (see story).
Also, The New York Times is expanding its travel program to include 21 land-based tours that further cement its position as an arbiter of taste and evinces the publisher's push for extra streams of revenue.
The Times Journeys feature various destinations and are split between "Luxury Travel," "Active Travel" and "Focus On" to better accommodate the discerning interests of its readers. Travel partners Abercrombie & Kent, Mountain Travel Sobek and Academic Travel Abroad have joined the brand to help tailor the tours (see story).
"Abercrombie & Kent is an operator of high quality travel programs and provides a high standard of service in all of its activities, attributes that are important to Land Rover and its overall image," Mr. Kurtz said.
"Land Rover can count on A&K doing a good job for both it and the travelers who buy one of these programs," he said.
"[Also,] Land Rover might just want to be careful that the itinerary will not be too strenuous for its vehicles and that fast repair services can be provided in the event they are needed."
Final Take
Joe McCarthy, editorial assistant on Luxury Daily, New York