Jaguar North America is adding more flair to its British Villains campaign by teaming up with British fashion label Thomas Pink for a pop-up shop May 9-10 at the brand's "Villain Academy."
Thomas Pink will style guests at the academy in the #GoodToBeBad outfits and future brand activations will follow. Introducing a signature fashion style will help launch the campaign beyond a temporary fixation so that it meshes with the brand's identity in the long-term.
"Partnering with Thomas Pink was a natural fit for Jaguar North America as both brands share a tradition of excellence that can be seen in Jaguar's transformed model lineup and Thomas Pink's crafted fashions," said Jeff Curry, brand vice president of Jaguar North America, Mahwah, NJ.
"There is an authentic brand and customer connection that comes from us both being British brands with alternative high-quality and design-oriented products," he said.
"We look forward to delivering truly unique brand experiences to our growing customer base with this partnership."
Some flavor
Jaguar and Thomas Pink activated the partnership May 2 at The London Hotel in West Hollywood, CA, where the fashion label's shirts were featured.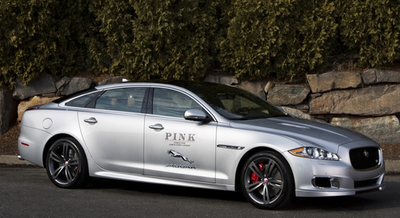 Jaguar car with Thomas Pink branding
The partnership will commence in a more rounded form during the academy in Austin, TX. The academy gives guests a full day with the new F-Type Coupe on the Formula 1 track Circuit of Americas, Austin, TX (see story).
During the event, Thomas Pink will style guests in the #GoodToBeBad style and provide made-to-measure shirts. The brand will also style select Jaguar staff.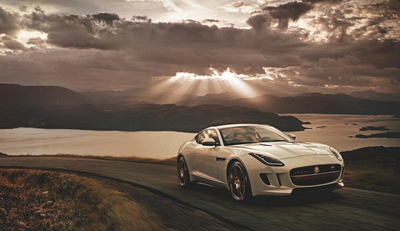 Jaguar F-Type Coupe
After the Villain Academy, national in-store activations will be hosted at multiple Thomas Pink retail locations. F-Type coupes will be on display at the stores along with various British Villains touchpoints.
Fashion and speed
When automakers are not designing their own labels they regularly team up with high-end fashion brands to expand their lifestyle position.
For instance, British automaker Land Rover partnered with British fashion label Barbour for a 2014 autumn/winter line.
Aside from a shared heritage, both brands value design and durability, which will be reflected in the clothing line. When automakers venture into new product categories, following the lead of a trusted designer makes sense (see story).
Also, Italian menswear brand Ermenegildo Zegna designed a capsule collection of active attire with Italian auto company Maserati for its yacht team.
Both brands are now selling the line on their Web sites, with Maserati touting the collection through an email blast. With this partnership, both brands are able to communicate their shared Italian history and heritage, while allowing Zegna to capitalize on Maserati's household name (see story).
"The collaboration with Thomas Pink has many exciting consumer activations on the horizon," Mr. Curry said.
Final Take
Joe McCarthy, editorial assistant on Luxury Daily, New York