MEXICO CITY, Mexico – Fashion and art can mutually benefit from the increasing convergence between the two sectors, according to a panel discussion May 13 at the FT Business of Luxury Summit.
Fashion uses art as a way to elevate products, while artists use collaborations as a method of marketing to raise the awareness for their work. However, fashion labels should think beyond the name attached, since the creative process can also be rewarding.
"I think that these artist collaborations don't just have to be a name brand mashup because the marriage of the two disciplines can be thrilling," said artist Rob Pruitt.
Creative collaboration
Mr. Pruitt was approached by Jimmy Choo a couple years ago to collaborate on its cruise collection. While his friends were skeptical that it would mean him selling out as an artist, he was excited about the opportunity to develop a larger audience.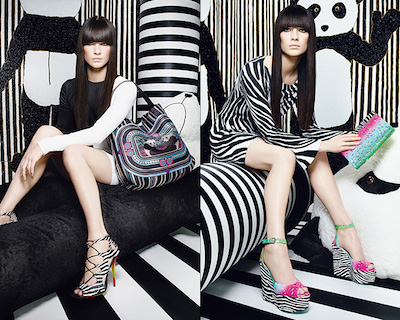 Rob Pruitt for Jimmy Choo ad campaign
The artist says that the art world is small, and it can feel like "preaching to the choir," so the collaboration offered more exposure for his ideas.
"I think that the Jimmy Choo people noticed from surfing the Internet that my name was trending in the art circles and there would be a benefit," Mr. Pruitt said.
"But I attained a benefit from them," he said. "My name is a known entity with so many more people."
After working with Jimmy Choo Mr. Pruitt got a call from recording artist and producer Pharrell Williams, who also wanted to work with him.
Even though both parties do win, there is still the notion that fashion brands are just using artists to make a profit.
"Fashion in the last few years, one cannot hide itself, it has used and abused art to make more profit and more margin," said Lapo Elkann, chairman and founder of Italia Independent Group.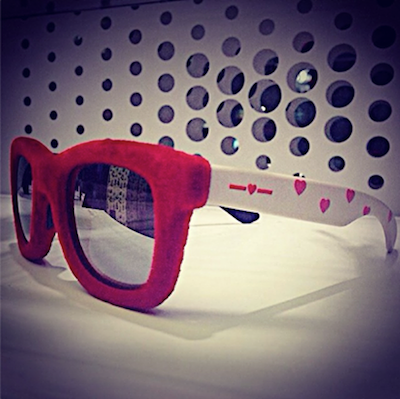 Italia Independent uses non-traditional materials in its eyewear
Mr. Elkann said that instead of picking big names, fashion labels should be using their financial resources to support younger artists, lifting them up in a patriotic way.
The creative also mentioned that it would be more interesting for artists to collaborate with mass market brands such as H&M or Zara, giving a large consumer audience access to their aesthetic.
Art vs. fashion
On the slightly controversial subject of whether fashion is art, the panelists were divided.
Mr. Pruitt thinks that both disciplines are basically the same, except for the longevity expected of art, compared to the fast-changing fashion landscape.
If a fashion collection fails, it is erased in six months, whereas art is eternal. The price point also differentiates the sectors, with art a much more exclusive product.
Italia Independent Group's Mr. Elkann said that he feels art has more substance and depth than fashion, and that fashion often calls upon art's "nobility" to elevate itself.
On the other side, artists are not usually criticized for their parts in these collaborations.
"Art is the church, no one is ever going to call into question the motives of the church," Mr. Pruitt said.
Going above
One point stressed during the discussion was the difference between collaborations with thought and those that seemed half-hearted, such as just printing a painting on a bag. A number of brands have had artists truly work with the medium to create a work of art.
For instance, Champagne brand Dom Pérignon used its new Instagram page to show off a collaborative project with artist Jeff Koons as a way to reinvent itself and appeal to younger consumers.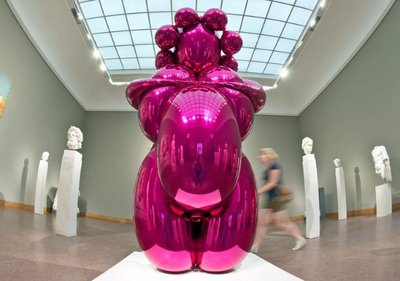 Dom Perignon bottle by Jeff Koons
The limited-edition Balloon Venus bottle and gift box was unveiled at a brand event during New York Fashion Week after a two-year collaboration. Collaborations with contemporary artists can reposition a brand's image to appeal to younger consumers while the limited availability of the product line will still draw brand loyalists (see story).
Often, fashion brands may use art as a marketing tool not intended to directly drive sales.
For example, Italian atelier Fendi added art appeal to its Munich store opening with a Baguette designed by Japanese painter Hiroshi Senju.
Mr. Senju is known for his large paintings of waterfalls, which tied into Fendi's exhibition in Munich featuring photos of fountains in Rome taken by creative director Karl Lagerfeld. Having an exclusive art piece or item for a store opening helps a brand attract foot traffic, since consumers visit to see the one-of-a-kind work (see story).
What was stressed by Mr. Elkann at the Financial Times conference yesterday is the idea of holding onto artisanship and what makes a brand truly a luxury good. This production quality and creativity is in danger for many labels.
"There are many mass luxury brands which people speak about, but real luxury is slowly fading away due to the big luxury groups," Mr. Elkann said.
"They standardize the aesthetics of the brands to generate more profits for their shareholders," he said.
Final Take
Sarah Jones, editorial assistant on Luxury Daily, New York