French perfumer Guerlain is looking to its roots to pay homage to the Terracotta bronzing powder with a limited-edition fragrance for the summer months.
Launched in 1984, the Terracotta powder is celebrating its 30th anniversary with its first signature scent that is accompanied by a palette of summer shades. This anniversary product launch has the dual purpose of honoring Guerlain's heritage as a perfume in addition to driving awareness for the popular Terracotta powder collection.
"Terracotta Le Parfum is the newest edition to Guerlain's vast fragrance collection," said Sarah Curtis Henry, vice president of marketing, PR and education at Guerlain, New York.
"Throughout its almost 200 year old history, Guerlain has created over 800 fragrances, each of them captivating and spellbinding," she said. "Terracotta Le Parfum EDT is so unique; in addition to being the signature scent of our iconic Terracotta line, the fragrance has the ability to instantly evoke images of summer: the sun, a tropical location, etc.
"It constructs a personal connection, and creates an experience for the user, one of the key attributes that makes Guerlain fragrances so special."
The scents of summer
Guerlain took a light approach when building awareness for Terracotta's 30th anniversary.
On Facebook, Guerlain posted a collage of images of the fragrance developed for Terracotta's anniversary. Images include the gold foil emblem on the bottle, the curve of the decanter showing the pink-hued juice and the bottle in full view.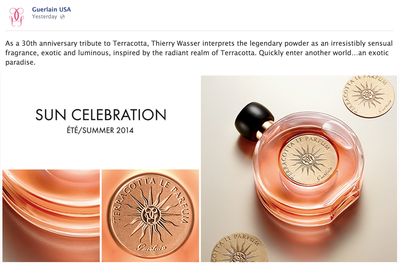 Guerlain Facebook post for the Terracotta fragrance
Copy announces that the tribute fragrance, Terracotta Le Parfum was crafted by in-house master perfumer, Thierry Wasser. Mr. Wasser has been with Guerlain since 2008 and has worked with brands such as Jean Paul Gaultier, Christian Dior and Lancôme on fragrances.
"As Guerlain's in-house perfumer, Thierry Wasser is constantly developing and evolving new scents for the Maison," Ms. Curits Henry said.
"For Terracotta Le Parfum EDT, he has finessed the scent to create an irresistibly sensual composition, ideal for day and night," she said.
On its Twitter account, Guerlain featured a "Speed Make-up" tutorial using Terracotta bronzing powder to create a 3-week tan look.
Speed Make-up - The Terracotta
The juice of the Terracotta Le Parfum is inspired by the "radiant realm" of the bronzing powder's "scent and feel of a tropical escape." To achieve this, Mr. Wasser weaved together the signature smells of Guerlain products such as the Terracotta original bronzing powder, Jambes de Gazelle and the brand's collectors' summer palettes.
Ideal for any time of day or season, according to the brand, the fragrance features notes of bergamot, tiare flower, ylang ylang and vanilla. Guerlain's Terracotta Le Parfum retails for $73, a price that may appeal to aspirational consumers.
Released as a limited-edition celebratory product, the scent will continue to be incorporated into the items of the Terracotta collection. The Terracotta fragrance is joined by the Terracotta Sun Celebration powder compact, a blend of Terracotta's best-selling shade 03, pinks, corals and a shimmering sun.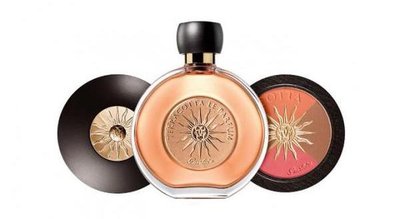 Guerlain's Terracotta fragrance and Terracotta Sun Celebration powder compact
The 2014 summer collection also features the limited-edition Gloss d'Enfer Maxi Shine lip gloss in 940 Nahema Smack, the limited-edition Le Vernis Shade nail polish and Rouge Automatique lipstick in 602 Tonka Impériale. Also, for post-summer Guerlain created the Terracotta After-Summer giant palette to reflect the changing seasonal complexion.
Guerlain's 2014 summer collection has been available at select Bloomingdale's since April. The collection was launched fully at Saks Fifth Avenue, Nordstrom, Neiman Marcus and Bergdorf Goodman in the beginning of May.
A terracotta foundation
Terracotta, as one of the brand's most recognizable cosmetics, has been the focal point of some of Guerlain's campaigns in the past.
For example, Guerlain took a product-driven approach to the beauty tutorial by teaching enthusiasts how to achieve a specific branded look using a specific type of foundation (see story).
Heritage has also been a driving factor in much of what Guerlain does.
Guerlain aimed to increase its exposure among young consumers who may be unfamiliar with the LVMH-owned beauty brand's heritage and products by creating a Tumblr account. Guerlain's newly minted Tumblr explores the brand's fragrance and beauty products while interweaving facets of history and craftsmanship to introduce the beauty maker's full identity (see story).
Anniversary celebrations should be reserved for well-established product lines.
"The use of an established brand name such as the Terracotta one in a new product categories presents, indeed, many benefits," said Benedetta Moreno, a London-based marketing consultant.
"On [Guerlain's] side it increases the brand image and decreases the risk perceived by customers, while on the [business] side it helps to reduce the marketing and distribution expenses of introducing a new brand," she said.
"Moreover when the new fragrance is a limited-edition, which respects a brand tradition, the interest and willingness to try it are even more appealing."
Final Take
Jen King, editorial assistant on Luxury Daily, New York