British automaker Land Rover is bolstering its position in the world of rugby by becoming the presenting partner of the Rugby World Cup Trophy Tour 2014.
The tour will travel to 15 countries over the next 13 months, giving the automaker the chance to ingratiate itself in emerging and mature markets. The auto brand's commitment to rugby is just another example of Land Rover's adept positioning efforts, embracing lifestyles that mesh with its brand image.
"Land Rover has a heritage within Rugby in the UK and around the world that goes back nearly two decades and our association spans all levels of the game, from grassroots to elite," said Lydia Haley, senior press officer at Jaguar Land Rover, Coventry, England.
"Through the trophy visits we can amplify this involvement by helping to celebrate rugby in all four corners of the globe," she said. "It's a great opportunity for Land Rover to engage with customers and staff a whole year out from the start of the tournament.
"The Rugby World Cup Trophy Tour sits in addition to our existing Worldwide Partner status. We hope to use the tour to further raise awareness of our position in rugby around the world. As the rugby community's vehicle of choice – helping to facilitate the game by transporting kit, players, media, officials, volunteers, parents and children."
The scrum
The Rugby World Cup Trophy Tour will travel to Japan, Australia, Fiji, Madagascar, Kenya, South Africa, Argentina, Uruguay, Hong Kong, China, New York, Dubai, Italy, Germany, Romania and France.
Many of these destinations have nascent rugby communities, which provides Land Rover a chance to associate its brand image with the sport. The trophy will visit schools, rugby clubs and Land Rover facilities and dealerships for further sport advocacy.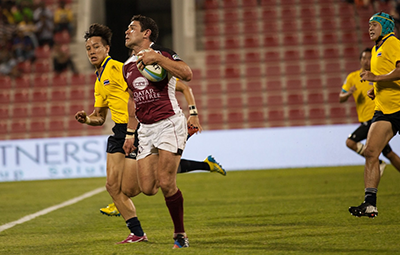 Qatar and Malaysia rugby team verse Thailand
"At each destination, Land Rover will help to take the Webb Ellis Cup to a remote location it has never visited before," Ms. Haley said. "As only Land Rover can.
"These locations will include unique and interesting communities where, in some countries, they are completely new to Rugby," she said.
Rugby is traditionally associated with countries like Australia and South Africa, where it helped to sow the gulf left in the wake of the apartheid state.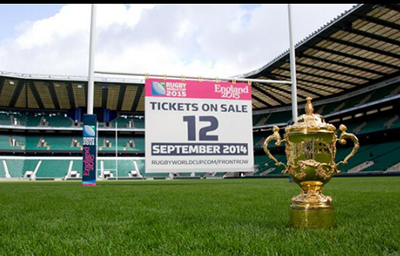 Rugby World Cup Trophy Tour promotion
Ultimately, the tour aims to bring rugby to a more global audience and to bring recognition to teams in emerging countries.
"It is important to celebrate rugby in a mix of markets and reach fans across the reach of the game," Ms. Haley said.
Breaking new ground
Land Rover can often be found exhorting athletes on the fringes.
For example, the brand supported the British explorers Ben Saunders and Tarka L'Herpiniere as they trekked 1,795 miles over 105 days in Antarctica to achieve the longest man-haul polar expedition in history. Unlike many brand ambassadors, Mr. Saunders has truly embodied the values that Land Rover has tried to exude since his invitation in 2008 (see story).
Also, Land Rover United Kingdom honored equestrian show jumping champion Ben Maher and dressage champion Laura Tomlinson with videos that illustrate how both brand ambassadors train for and achieve success (see story).
Although Land Rover may seem to spread itself thin, it aims to keep its customers and staff close at hand.
"We will also be engaging with our customers and staff throughout the tour such as in Tokyo where the Cup will be visiting one of our main Land Rover dealers in Tokyo," he said.
Final Take
Joe McCarthy, editorial assistant on Luxury Daily, New York