Swiss watchmaker Hublot is strengthening its connection to world of soccer through its international "Hublot Loves Football" campaign in the weeks leading up to the start of the FIFA World Cup June 12.
The global tour has taken Hublot from country-to-country where the watchmaker has been awarding local head coaches with timepieces, hosting events and debuting its "Official Watch" of the international soccer matches. As the official timekeeper of the World Cup, hosted in Rio de Janeiro, Brazil, Hublot is aiming to maintain retention in cities with a high concentration of soccer fans outside of the host city.
"Soccer is the most popular sport in the world," said Rob Frankel, branding expert at marketing consultancy firm Frankel & Anderson, Los Angeles. "When fans aren't killing each other in the stands, they're cheering on their favorite local, regional or national teams.
"They identify strongly with their teams and especially players who excel, regardless of team affiliation," he said. "If Hublot can latch onto soccer's universal appeal, it figures its own brand can be universally accepted, too.
"Clearly the FIFA World Cup is the biggest news in world soccer this year, so Hublot is doing what it can to ride on its coattails. As we see more photographs and videos from Brazil and ancillary media, we're likely to see many retail logos in the background, all of whom hope to gain from the multiple minor exposures."
Mr. Frankel is not affiliated with Hublot, but agreed to comment as an industry expert.
Hublot did not respond by press deadline.
Enjoyed around the world
With millions of soccer fans the world over, Hublot likely hopes to build awareness among aspirational consumers with a love for the game, as well as established consumers who may be traveling to Brazil for the games June 12 through July 13.
As of press time, Hublot has visited seven countries to celebrate the upcoming games and showcase its timepieces to an international audience.
For instance, Hublot brought Hublot Loves Football to Santa Fe, Mexico, where the watchmaker has a retail corner presence with retailer Berger Joyeros Boutique at Via Santa Fe.
Hublot also presented Mexican national team coach Piojo Herrera with the special edition, "Mexican Football Federation" watch.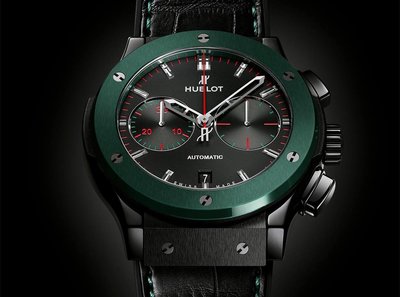 Hublot's Mexican Football Federation watch
While in Milan, Italy, the watchmaker hosted a soccer tournament May 20 at the Piazza degli Affari where eight teams played 10-minute matches. Hublot also used this event as the stage to unveil the "Official Watch" of the World Cup.
Hublot's Big Bang Unico Bi-Retrograde Chronograph is the watchmaker's first watch to be produced with a bi-retrograde function with a central chronograph, the brand explained in a statement. The mechanical movement has been customized for soccer fans to allow the wearer to time each half of a match, including overtime.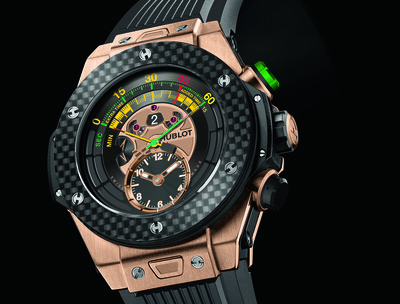 Hublot's Big Bang Unico Bi-Retrograde Chronograph - the official watch of the FIFA World Cup 2014
The tour has also made stops at China's Beijing Worker's stadium to celebrate newly appointed brand ambassador and head coach of the Guangzhou Evergrande Football Club, Marcello Lippi.
Also, Hublot has celebrated new ambassadors Fernando Santos, head coach of the Greek National Football team and Paulo Bento, head coach of the Portuguese National Team. Coach Bento was given the Hublot Big Bang Uncio Special Unique for his achievements and as a token of Hublot's dedication to soccer.
Similarly, Hublot made its only stop in the United States in Miami, FL. Together with brand ambassador and legendary Brazilian soccer player Pelé, the brand hosted an event inside artist Romero Britto's Wynwood Studio.
As a crossover promotion between the watchmaker's involvement in racing and soccer, Hublot Loves Football made an appearance in Monaco during the Grand Prix weekend May 23-25. In addition to a Hublot-branded helipad, the watchmaker hosted a charity soccer match with the players wearing branded uniforms.
Also, Hublot has dedicated three timepieces to the Paris Saint-Germain, Bayern Munchen and Juventus soccer clubs to continue its Hublot Loves Football campaign.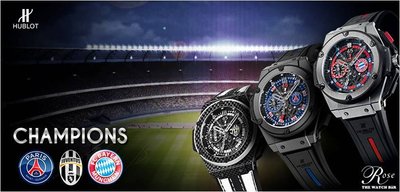 The three unique pieces dedicated to PSG, Bayern Munchen and Juventus
To keep the host city of Rio de Janeiro top of mind, Hublot created a model, the Hublot King Power Scolari to celebrate the manager of Brazil's national team, Luis Felipe Scolari. The limited-edition timepiece, in Brazilian colors of yellow and green, is limited to a 50-piece reserve.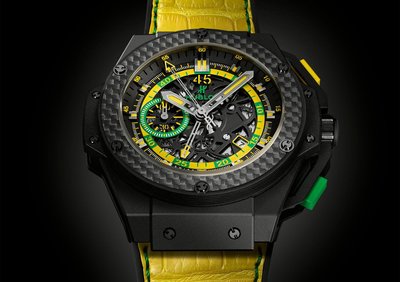 Hublot King Power Scolari to honor Luis Felipe Scolari
Similarly, Hublot introduced its brand officially to the Brazilian consumer when it created a watch dedicated to renowned soccer player Edson Arantes do Nascimento, better known as Pelé (see story).
The draw of new fans
Recently, luxury brands have been turning to more mainstream sports rather than athletic events traditionally associated with wealth, such as show jumping or polo.
In anticipation of the FIFA World Cup, Danish audio and video company Bang & Olufsen is looking to introduce its B&O Play headphone series to a new audience through a globally-distributed capsule collection.
The "Live for Now" capsule collection is in collaboration with a series of artists, retail partners and Pepsi, an unlikely partner for the high-end consumer electronics brand. Bang & Olufsen acknowledged the uncommon partnership by linking its own codes to the "capturing the excitement of the moment" ideology of Pepsi's Live for Now campaign (see story).
Also, British automaker Land Rover is bolstering its position in the world of rugby by becoming the presenting partner of the Rugby World Cup Trophy Tour 2014.
The tour will travel to 15 countries over the next 13 months, giving the automaker the chance to ingratiate itself in emerging and mature markets. The auto brand's commitment to rugby is just another example of Land Rover's adept positioning efforts, embracing lifestyles that mesh with its brand image (see story).
Hublot's wide-reaching campaign may promote the brand's timepieces among its target audiences, but, as with any sporting event, consumers are likely to tune in no matter who the sponsor is.
"It's likely Hublot created the 2014 FIFA World Cup Brazil watch as its rationale for diving into the football community with news they'd deem relevant," Mr. Frankel said.
"Merely expressing support for football wouldn't be enough," he said. "But introducing a branded product especially for the event is really just legitimizing Hublot's presence in front of an international football audience."
Final Take
Jen King, editorial assistant on Luxury Daily, New York