Italian furniture brand Poltrona Frau is highlighting the craftsmanship of its pieces through a touring event.
The brand's "Muestra Itinerant Poltrona Frau: La Inteligencia de Las Manos," or "Intelligence of the hands," will touch down in five Spanish cities, starting with Madrid on June 18. On the first night of each stop, an artisan from Poltrona Frau will be on hand to demonstrate the processing of a Chester sofa, providing a first-hand look at the production steps for consumers.
"That's surprising," said Al Ries, founder and chairman of Ries & Ries, a Roswell, GA-based marketing strategy consultancy. "The logical choice would be to hold the events in Italy.
"There must be some reason, however, to hold it in Spain," he said. "Perhaps Poltrona Frau is planning a big marketing push in the Spanish market.
"Frankly, this is a very unusual tour. So I believe it might interest many potential Poltrona Frau customers as well as the media. It could be a profitable publicity idea."
Mr. Ries is not affiliated with Poltrona Frau but agreed to comment as an industry expert.
Poltrona Frau did not respond by press deadline.
A closer look
Poltrona Frau announced its events on its Facebook page, including an image of the invitation for the series.

Event invitation from Poltrona Frau
The invitation shows a photo of a man standing behind the skeleton of a sofa about to place the top layer of upholstery on the couch's framing.
To the right of the photo are the upcoming dates in the tour, including the opening in Madrid.
Following that, Poltrona Frau will be visiting Palma de Mallorca on July 11. In September the interior design brand will touch down in Barcelona.
In the post, Poltrona Frau tells consumers to follow it for more dates.
Other images of craftsmen at work are included on Facebook. These show the hand connected springs within furniture and the tufting process.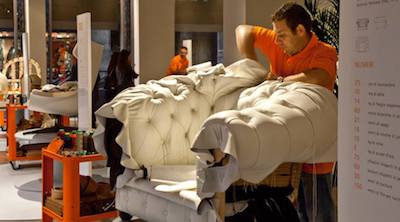 Poltrona Frau image of craftsman
The furniture brand has used print advertising to also communicate the concept of genius artisans.
Poltrona Frau was among the high-end home furnishings manufacturers taking advertising pages in luxury shelter magazine Luxe Interiors + Design's growing New York edition.
Italian leather goods maker Poltrona Frau included an effort for its Ginger chair designed by Roberto Lazzeroni. The ad was placed opposite Luxe Interiors + Design's "Must-Haves" section to ensure readers take notice (see story).
The ad's headline is "Inteligence in our hands." Copy goes on to explain how the craftsmen are trusted by the brand to pick the best materials and to lead the entire production process.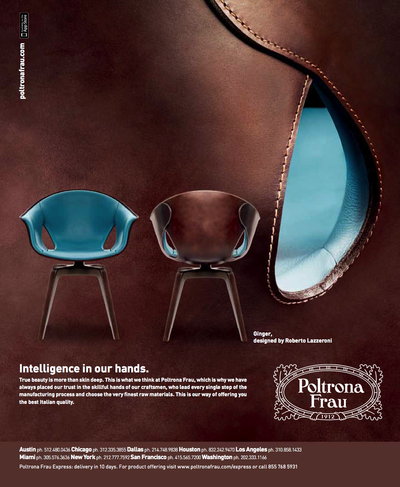 Poltrona Frau print ad in Luxe Interiors + Design's New York edition
Seeing is believing
Events that showcase craftsmanship in-person help justify a luxury price point to consumers.
Italian atelier Fendi celebrated the 20th anniversary of its Selleria handbag line entering the Japanese market with a string of events throughout the country.
To kick off the celebration, Fendi hosted an event at Japanese department store Isetan where consumers could watch artisans make handbags in person and buy an exclusive yellow-colored bag. Being able to see the craftsmanship of the bags up close likely prompted consumers to buy (see story).
"Made in Italy," a marker for Poltrona Frau, still carries weight, according to a recent report by Boston Consulting Group.
Core luxury consumers surveyed said that they look at where a product is made. Emerging markets are the most sensitive to this, with 87 percent of the respondents in countries such as South Korea and China saying they care, compared to the average of 78 percent.
Of the consumers who said they looked at where a product is made, 44 percent said they considered Italy to have the best manufacturing for luxury. France followed with 17 percent (see story).
This event is ideal for those in the interior design industry.
"Interior designers and their clients will likely be interested," Mr. Ries said. "An interior designer could invite one or more clients to one of the events to help the client understand why Poltrona Frau furniture is worth the price."
Final Take
Sarah Jones, editorial assistant on Luxury Daily, New York