De Beers, the "jeweler of light," is illuminating women's causes through a portrait series that highlights the talents and achievements of five women across various industries.
Photographed by Mary McCartney, "Moments in Light" works to capture the "brilliance" of these women just as De Beers aims to "honor the light" of a diamond. By showing empowered, successful women in the Moments in Light"initiative, De Beers is underlining traits sought in potential consumers.
"We selected our talented women with our photographer and curator Mary McCartney," said Jennie Farmer, brand director of De Beers, London. "We were looking for women who are true masters of their craft, who are authentic with an inner beauty and spirit.
"The women we found all have an amazing story to tell that will hopefully inspire women around the world," she said.
"This is an important long-term project for the brand that connects emotionally with women. It is truly a project for women, by women, where we wanted to express through their 'Moments in Light' our own soul which is about revealing the brilliance of women and of diamonds."
Shine on
De Beers has promoted Moments in Light on its social media accounts by posting behind-the-scenes imagery to pique interest. Giving consumers a behind-the-scene look without giving away much of what the campaign entails results in curiosity and a higher likelihood of a click-through.
Many of the behind-the-scenes images shared by De Beers show the women involved in the campaign sitting for their portraits. The camera also turns on Ms. McCartney to show that she is also a master of her craft.
All of De Beers' posts include a link to its Web site where the consumer can discover more about the Moments in Light campaign.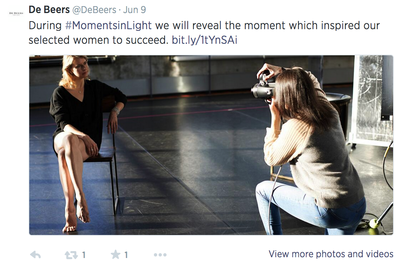 Tweet promoting De Beers' Moments in Light
De Beers' Web site also begins with a behind-the-scene image to show Ms. McCartney's creative process. By scrolling, the consumer can read copy that introduces Moments in Light in more detail than what was shared via social media.
In this section, De Beers also introduces the five women who are participating in Moments in Light. The five women include British fashion designer Alice Temperley, Chinese photographer Chen Man, British artist Cornelia Parker, Australian chef Skye Gyngell and Canadian choreographer Aszure Barton.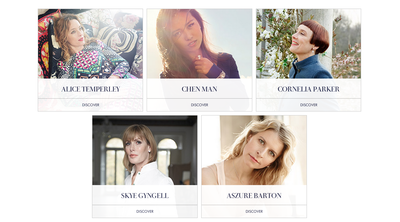 Images of the five women featured in De Beers' Moments in Light
The consumer can learn more about each of the women by clicking her photograph. A click-through lands on a content page that includes a brief biography, how her craft parallels Moments in Light and a behind-the-scenes video of the photo shoot.
Consumers can also read an interview with each of the women as they discuss their goals, achievements and defining moments. Below, there is a gallery of behind-the-scene stills.
A section further down on the Web site features similar content focusing on Ms. McCartney.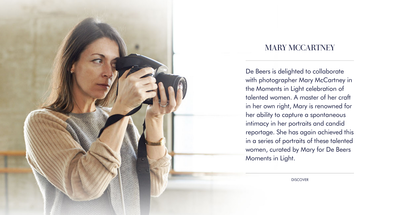 Photographer for Moments in Light, Mary McCartney
The Moments in Life Web page also allows the consumer to view photographs of the De Beers event held June 5 at the Royal Academy of Arts in London. To bring the initiative full circle, Chef Gyngell prepared the meal served at the launch event.
As a celebration of all women, Moments in Light will benefit Women for Women International, a charity which helps provide financial and emotional aid to women in war-torn regions. On the behalf of Moments in Light, Women for Women is able to provide assistance for 150 women who will receive year-long training to help instill confidence and future skills.
The final section for Moments in Light includes additional information about Women for Women and notes De Beers' involvement since October 2013 in Afghanistan, Kosovo and Nigeria.
Consumer portraits
Other jewelers are turning to artists to, literally in some cases, paint a picture of their ideal consumer while celebrating that individual's achievements.
For instance, Tiffany & Co. targeted consumers in China through a collaboration with Chinese painter Yu Hong that symbolized the brand's Keys collection.
Known for her paintings of contemporary Chinese women, Ms. Hong worked with Tiffany to create a series of portraits that work to "unlock" the subject's future possibilities. By partnering with a Chinese artist who focuses her work on the experiences of women, Tiffany will likely see increased awareness from female consumers in China who are familiar with Ms. Hong's paintings (see story).
Also, it is sensible for a jeweler to partner with charity organizations that work to benefit women, as females are the targeted audience for most collections.
For example, colored-gemstone miner Gemfields extended its sustainable business practices into civic engagement with a charity partnership, Project Blossoming, with India's Project Nanhi Kali.
Translated to mean "little bud" in Hindi, Project Nanhi Kali is dedicated to improving the lives of Indian girls through education. Selecting a charity rooted in India was fitting for Gemfields, since the country is a key market for the brand (see story).
It is De Beers' hope that this initiative will help less fortunate women reach their potential.
"We were so impressed with the work of Women for Women International, and it seemed the perfect fit for this project to give back to women who are in need, to help them rebuild their lives and hopefully be able to find their own Moment in Light one day," Ms. Farmer said.
Final Take
Jen King, editorial assistant on Luxury Daily, New York