France's Cartier is celebrating 30 years of Foundation Cartier, an organization built to celebrate contemporary art.
The Fondation Cartier pour l'art contemporain promotes art by discovering upcoming artists and celebrating the lesser known sides of famous artists. Foundation Cartier is honoring the anniversary with an exhibition that will showcase the creation and freedom of its past artists.
"Similarly to all luxury brands, heritage is key to the brand's story," said Romey Louangvilay, associate director of digital strategy at Syndicate Media Group, New York.
"It's their heritage that people latched on to and continued to communicate through the years, which has made Cartier so successful," he said. "Celebrating a 'look back' is a perfect way to remind people of the brand's history and evolution.
"The event also provides additional content to share on social media and other ads. It reminds people of Cartier's iconic legacy and encourages people to continue the story whether that be on or offline."
Mr. Louangvilay is not affiliated with Foundation Cartier but agreed to comment as an industry expert.
Foundation Cartier was unable to comment by press deadline.
A look backward
The Vivid Memories exhibition will run for five months and will constantly change to show the whole realm of artists the foundation has built its patronage history upon.
The evolving exhibition is called Rams and will feature painting, design, photography, film, folk art, sculpture, music and performance.
Headlining artists also receive a section on Cartier's Web site which is then promoted by the brand on social media.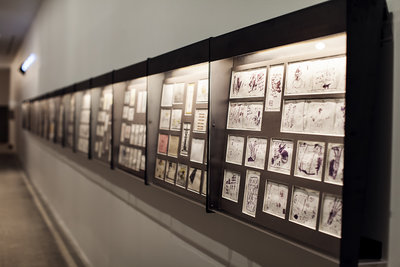 David Lynch's new exhibit
For example, artist David Lynch exhibited his "The Air is on Fire" collection in 2007 and is currently being honored at Cartier Foundation with 259 drawings on various everyday objects from the past few decades.
The foundation honors contemporary artists, individuals who are up-and-coming, or people who are known, but are experimenting in a new field.
Issey Miyake, in 1998, had an exhibition entitled "Issey Miyake Making Things" that explored a new way of understanding clothing, combining imagination with well-being and innovative technologies.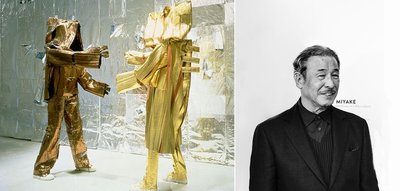 Mr. Miyake's exhibition
The exhibit is honored this summer with Mr. Miyake's interpretation of French architect, Jean Nouvel, and Japanese in-ei. He also designed clothing for the Foundation Cartier's facilitators.
By revisiting previous artists, the foundation is celebrating its own history and honoring the foundation itself.
Brand awareness
Fondation Cartier pour l'art contemporain does not directly honor the brand, but the name on the museum aligns guests with the brand's support for the artists that are showcased.
A brand's affiliation with museums is not a new concept. From collaborative art installations to displaying iconic pieces of jewelry, nearly every brand has curated a museum exhibit to showcase their heritage and identity from their own perspective.
By curating an exhibit a brand can bolster its identity through storytelling that reveals specific aspects of its history to consumers. Using education and creative exhibit installations may help reaffirm its position in the luxury market and elevate its standing in the mind of enthusiasts (see story).
Cartier's lack of outwardly self-advertising in the foundation allows the focus to remain on the artists being exhibited, but the brand's name in the title of the foundation creates awareness among visitors.
For example, precision-cut crystal maker Swarovski celebrated the thirteenth year of its partnership with the Council of Fashion Designers of America Awards with a charitable auction.
Swarovski enlisted the nine designers nominated for a Swarovski Award for Emerging Talent to design an item to be auctioned online to benefit Free Arts NYC. Hosting this auction allows Swarovski to celebrate a unique milestone while also showcasing its support of the fashion and art worlds (see story).
By encouraging rising artists to strive for success, Cartier can share in potential success.
"My assumption is that Cartier would like to keep its jewelry brand somewhat separate from the museum is due to the fact they serve different purposes," Mr. Louangvilay said.
"Cartier is iconic in the jewelry space and creating quality craftsmanship while the museum purpose is to curate art from established and emerging designers showing the world that Cartier not only creates beautiful pieces, but can spot it as well," he said.
Final Take
Nancy Buckley, editorial assistant on Luxury Daily, New York