Swiss watchmaker Longines is the official timekeeper and watch of the XX Commonwealth Games 2014 in Glasgow, Scotland.
The games feature 17 sports and athletes from 70 teams across the British Commonwealth nations. This sponsorship will likely create awareness of the watch brand among participants and fans.
Let the games begin
On the Longines Web site and the site for the games a countdown clock informs viewers of the days, hours, minutes and seconds until the sporting events begin.
The games will host 4,500 athletes that hail from the Commonwealth nations. These athletes will participate in 11 days of competition between July 23 and August 3.
This event will sell about 1 million tickets and will be run by 15,000 volunteers. It is the largest sporting event ever held in Scotland.
Along with the countdown, the Longines Web site has a map of the events.
Longines' involvement with the Commonwealth Games dates back to 1962 when the brand was the official timekeeper of the Pert, Australia games.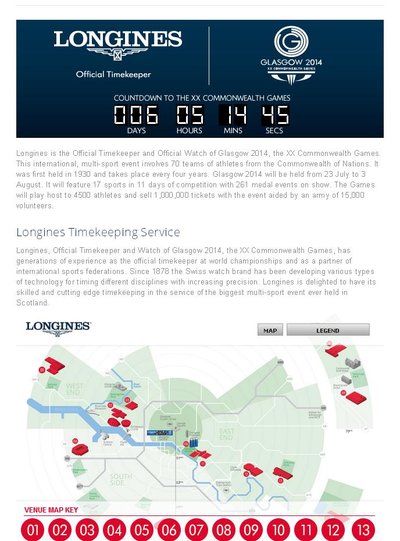 Longines Website with countdown and map
This year's partnership began in October 2013 when Her Majesty Queen Elizabeth II launched the Queen's Baton Relay. The relay sends the baton across the 70 nations and territories of the Commonwealth before the opening ceremony.
Longines regularly joins the athletic world.
For example, the Swiss watchmaker acted as the official timekeeper of the French Open held at Roland-Garros stadium in Paris.
As a supplement to its sponsorship, Longines asked fans to guess the time of each day's longest match. Also, alongside the professional Grand Slam event, Longines sponsored a Future Tennis Ace tournament which hosts matches for aspiring tennis players, which collectively drew the attention of a wide range of tennis fans (see story).