Starwood's St. Regis Hotel and Resorts is bolstering its polo reputation with a new cup in Sonoma Valley, CA, along with numerous philanthropic partnerships.
The inaugural St. Regis Polo Cup was developed to bring the West coast of the United States a cup comparable to the Piaget Hamptons Polo Cup in New York. Also, the event will benefit Giant Steps Therapeutic Equestrian Center, a non-profit that gives disabled children a chance to ride therapeutic horses.
"It's always great when a hotel brand is able to play host to a major luxury event," said Taylor Rains, Charleston-based luxury brand consultant. "It draws a crowd consistent with their market and helps to maintain or even elevate the brand's standing in the eyes of the consumer.
"There can, however, be a risk associated with these types of partnerships if they are not structured properly," he said.
"Luxury for luxury's sake is no longer desirable for the majority of the market. People are looking for substance."
Mr. Rains is not affiliated with St. Regis.
St. Regis was unable to comment by press deadline.
Growing the program
The first stop for St. Regis will be in Bridgehampton, NY, in August for the third annual Piaget Hamptons Polo Cup, an event that draws fashion luminaries such as Donna Karan.
St. Regis ambassador Nacho Figueras will attempt to lead his team to victory, but the full-day affair also offers more for spectators. Guests can can receive polo lessons, take pony rides, enjoy traditional Argentinian barbecue and the brand's signature afternoon tea.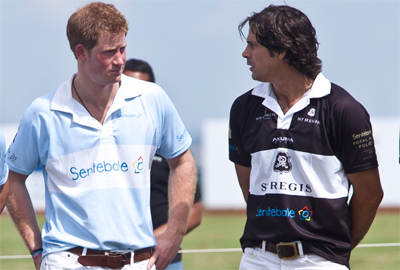 Prince Harry with Nacho Figueras
The event benefits the Robin Hood Foundation, an organization that combats poverty in New York. Last year, attendees raised more than $500,000 for the charity.
In September, the brand will travel to the West coast for the first Sonoma Valley cup at the Wild Oak Saddle Club. A silent auction, wine tastings and other attractions will be available for guests. Attendees are also encouraged to stay at the nearby St. Regis San Francisco.
Proceeds of this event will benefit the Giant Steps Therapeutic Equestrian Center. Interested consumers can reserve tickets for the cup here.
For polo enthusiasts, the brand is also offering a number of offers such as exclusive access to international events, bonding time with Mr. Figueras and events through its Polo Aficionado program. However, consumers may have a hard time tracking down upcoming events, since the Web page for both the upcoming season and the Aficionado program have not been updated.
Building bridges
Other brands have established a connection to polo similar to St. Regis.
For example, Audi, Piaget and The Financial Times' "How to Spend It" are among the luxury brands coming together July 26 for the Coronation Cup in Egham, Britain, at the Guards Polo Club.
The Audi-sponsored British team will face off against the Equus & Co. Argentina club. Throughout the day attendees will be able to mingle and enjoy a host of activities surrounding the contest (see story).
Many polo events have a charitable component.
For instance, St. Regis and Land Rover came together last year as team sponsors for the Sentebale Royal Salute Polo Cup fundraiser at the Greenwich Polo Club in Greenwich, CT.
The Sentebale charity was founded by Britain's Prince Harry and Prince Seeiso of Lesotho to help the neediest children of Lesotho, Africa. St. Regis and Land Rover joined other brands such as Hearst's Town & Country, whiskey maker Royal Salute and British jeweler Garrard to support the fundraising event (see story).
"By incorporating a charitable component into these events the brand satisfies this need and demonstrates a commitment to something outside of the luxury standard," Mr. Rains said.
Final Take
Joe McCarthy, editorial assistant on Luxury Daily, New York