German automaker Mercedes-Benz is providing multiple levels of training for off-road driving this summer for consumers and locals in the brand's home country.
The events will take place in Biberach, Germany, and present five levels of off-roading to appeal to beginner and skilled drivers. This event will likely boost consumer interest and attention from local towns and globally as consumers are informed about the other driving capabilities of their Mercedes-Benz and aspirational consumers are given the opportunity to engage with the brand and its vehicles.
"Most consumers that buy SUVs never take them offroad, but giving them the opportunity to see what it's like from the beginning to a more advanced driver will make them appreciate what Mercedes has to offer," said Lauren Fix, automotive expert and author of "Lauren Fix's Guide to Loving Your Car," Lancaster, NY.
Ms. Fix is not affiliated with Mercedes-Benz, but agreed to comment as an industry expert.
Mercedes-Benz was unable to comment by press deadline.
Off-roading adventures
There five different off-road courses that consumers can chose to purchase.
The first and easiest level is Basic Training that focuses on ascents, descents, mud-water crossings and driving on slide slopes. This level features Mercedes-Benz G-Class, GL-Class, GLA-Class, GLK-Class and M-Class. Participants can also use their own vehicle.
Participants learn about the functions of the car and its effect on driving. For example, the low- and high-range gears.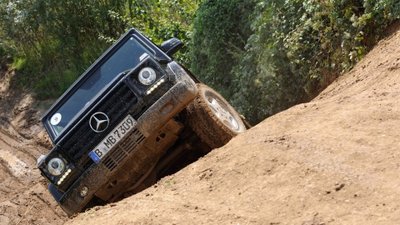 Mercedes-Benz G-Class training
The second experience is called Advanced Training and is for individuals with longstanding off-road experiences. The course has deep-water crossings, sandy tracks, mud-water crossings, an ABS braking course and steep ascents and descents. This level offers a G-Class, GL-Class and M-Class for use during the course.
Advanced G-Class training focuses on the G-Class and its capabilities.
Perfection training is a two-day trip that includes driving in mud, tackling narrow woodland sections and going up and down steep slopes. The G-Class, GL-Class, GLK-Class and M-Class vehicles are used for this portion of the offroad training.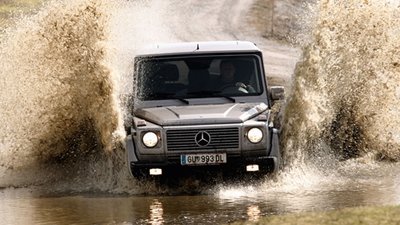 Extreme Training level
The final and most difficult class, Extreme Training, is for those who have completed the other classes or who have a long-standing history with off-roading. The weekend will teach participants about rolling a flipped vehicle to the upright position and offer an opportunity to converse with other experienced off-roaders.
Training sessions start at about $629 for the basic course and go up to around $1,314 for the more advanced classes.
Each class includes meals for the time allotted and overnight accommodations for the two weekend courses.
Spreading automobiles
Automobile brands can easily relate to consumers through events and test-driving opportunities.
For instance, Jaguar Land Rover Canada tried out a different kind of horsepower at the three-day equestrian event, Bromont CCI***.
The competition hosted the best horses and riders in eventing was the focus of the weekend, but the three days also featured activities for fans courtesy of Jaguar Land Rover. Spectators, both brand enthusiasts and newcomers, had the opportunity to test drive new models and gain knowledge of the brand (see story).
Keeping events close to the automaker's local roots can also bring attention to the brand.
For example, German automaker Audi AG presented a new conductor, Kent Nagano, for the Vorsprung Festival which was part of the brand's Summer Concerts series in its country of origin.
The Summer Concerts series had been an active part of Audi's cultural affairs office in Germany for about 25 years and the annual event draws people from the brand's home country to engage with the local company. With the addition of Mr. Nagano, an American conductor who has performed worldwide, the brand was likely to spark international awareness in the musical community and beyond (see story).
Connecting a brand with a concept that is close to home, but foreign to most consumers can create an opportunity for brands, like Mercedes-Benz, to showcase all their capabilities.
"Mercedes is being very wise showing the capability of their vehicles offroad," Ms. Fix said.
Final Take
Nancy Buckley, editorial assistant on Luxury Daily, New York