LVMH-owned Champagne house Dom Pérignon is sharing a unique culinary experience digitally with enthusiasts who were unable to attend the previously held rosé tasting menu event.
Dom Pérignon invited 10 chefs to the Hautvillers commune in France to create the "Paradox" menu to celebrate the aged taste of the brand's rose2003. Champagne houses often invite enthusiasts to exclusive tasting events so they can explore and better understand the beverage and learn how to pair appropriately with meals.
Tasting the rosés
The Champagne house developed "Creative Combustion" to examine the paradoxes of Dom Pérignon rosé, a vintage from 2003. Participating chefs created dishes that were "boldy theatrical" to explore the paradoxical facets of rosé.
Shared on its Facebook, consumers are directed to experience the menu on Dom Pérignon's Web site. A video overview of the tasting event, narrated by guests and the chefs involved, begins to play automatically after the consumer scrolls past a Dom Pérignon label.
Rosé Paradox - Creative Combustion Film
Back on the Web site, the consumer is presented with tiles to learn about the dishes served and Dom Pérignon rosé's tasting notes. By clicking on any dish or food-related image, the consumer is brought to a page with all of the menu items.
Although the site does not include recipes, the consumer gets a feel for why that dish was created based on the small blurb next to the image. Each chef is included next to his dish with a link that brings up a short biography and a link to his Web site.
The 19 dishes included oyster with galangal horchata, duck breast onion carbonara in fig-cacao sauce and red fruit, beet infusion and pink pepper.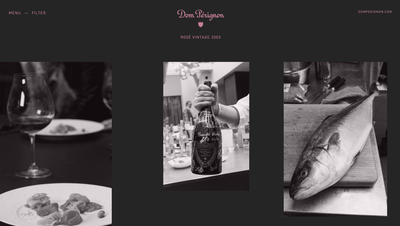 Dom Pérignon's Creative Combustion Web site
Even though Creative Combustion occurred in March, incorporating digital aspects increases its longevity and rejuvenates consumer interest now that rosé is in season.
Champagne brands have been elevating pairing dinners as of late. For example, French Champagne house Krug is demonstrating how well its wine pairs with seafood with a dining experience in London Sept. 3-7 (see story).