French silvermaker Christofle is hosting a series of dinners throughout North America to introduce its selection of tableware.
Christofle's "Art of the Table: Traditional Dining for a Modern World" gathers 10 to 15 guests at one of the brand's showrooms or a private venue to explain trends in table settings. Giving an idea of new pieces and options for tablescapes may inspire consumers to update their current silverware.
"Art of the Table was designed to engage a younger, modern audience that may have less experience in the art of setting a table," said Justin Trabert, store manager of Christofle's Bal Harbour, FL, boutique and brand ambassador for Christofle.
"In an intimate and approachable way, Christofle is looking to showcase the ease of living and entertaining with silver," he said. "Through the series we hope to take away the pressure often associated with formal dinner parties and teach a new generation the pleasures of being able to properly set a table, expressing themselves with design and incorporating proper etiquette in the modern era."
Dinner and a show
The Art of the Table events are co-hosted, and typically consist of a Champagne reception and a four-course meal. During the dinner, guests are primed on trends in entertaining and dining etiquette by a member of the Christofle team.
This Christofle representative will speak about the function and use of flatware, stemware and porcelain pieces, as well as share interesting dining-related trivia. Guests are encouraged to interact and ask questions, so they leave with the information they wanted about throwing their next soiree.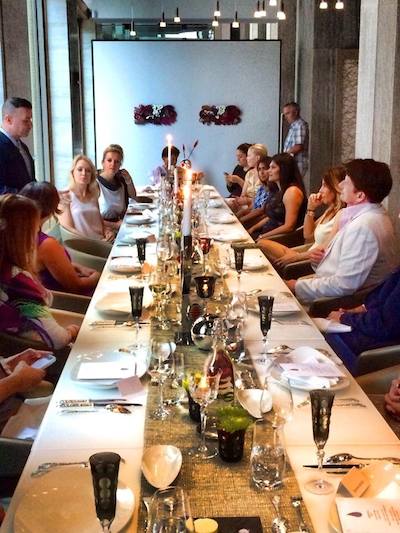 Art of the Table in Boston
These events can be held in the brand's boutiques in Boston, Melrose, CA, Beverly Hills, Houston, New York, Palm Beach, FL, and Montreal. Christofle can also host in off-site venues, such as art galleries, restaurants or private residencies if requested.
To spread news of the events and to generate interest in booking, Christofle shared photos from an Art of the Table dinner in Boston on social media.
The brand often shares ideas of creative table designs with its social media audience.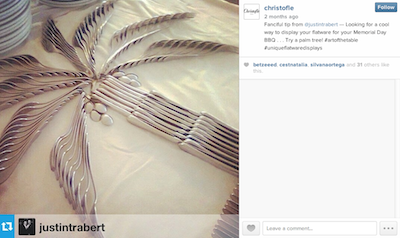 Instagram post from Christofle
"Art of the Table appeals to a range of sophisticated audiences who are interested in discovering both the latest trends in entertaining as well as the history of various etiquette styles," Mr. Trabert said. "A number of these dinners have been coordinated independently, but we've also found that they are popular items for charity auctions.
"In addition, the Art of the Table has the capacity to become a bespoke event and no dinner has been the same as another," he said. "They are truly driven by the interests of the host and guests to incorporate more historical facts, the difference between traditional vs. modern etiquette styles and more.
"The storytelling aspect of these dinner parties has been a highlight for participants. History is such a huge part of the luxury experience, and through the Art of the Table participants are captivated by both the story of the brand as well as the rich traditions associated with etiquette. People are engaged by the bespoke nature of the event and have enjoyed seeing how Christofle has helped to elevate the dining experience for the modern era."
Wining and dining
Experiential dining events allow consumers to interact with tableware in a natural way.
For instance, home furnishings brand L'Objet partnered with Dorchester Collection's The Dorchester in London to launch its tenth anniversary tableware collection Sous Les Ciel.
One of The Dorchester's three private dining rooms in its restaurant Alain Ducasse were transformed into Salon L'Objet, creating a space for consumers to experience the collection first hand. Partnering with a Michelin star restaurant allowed L'Objet's tableware to become part of a culinary experience while reaching consumers with a penchant for fine things (see story).
Similar dining experiences work to illuminate food and beverage pairings.
For example, French Champagne house Krug is demonstrating how well its wine pairs with seafood with a dining experience in London.
From Sept. 3-7, LVMH-owned Krug is partnering with the newly-opened London restaurant Beast for the "Krug & Krustacean" tasting menu. By narrowing the scope of the menu, Krug can underscore how well its Champagne pairs with foods that may not be immediately associated with the beverage (see story).
Beyond entertaining, this event will help consumers see how Christofle's products would fit into their lives.
"By actually feeling and interacting with Christofle flatware, participants see how truly functional silver is," Mr. Trabert said. "At Christofle, we believe that silver should be lived with daily, not simply pulled out for special occasions.
"When guests use our products they can see the quality of each piece and the different role and function that each serves during the dining experience," he said. "By demonstrating the proper way to set a table to a small audience, each person at the event is able to get a full immersion in the tips and tricks offered by the Christofle representative and accurately apply them to their next dining and entertaining experience."
Final Take
Sarah Jones, editorial assistant on Luxury Daily, New York