British automaker Jaguar Land Rover is looking to stand out during the Pebble Beach Concours d'Elegance Aug. 14-16 in California with three model debuts.
The vehicles making their first appearance come from the brand's "Special Operations" division that focuses on high-performance and highly branded vehicles. Although vehicle debuts are an essential component of the brand experience at car shows like Pebble Beach, digital touchpoints are the main differentiator these days.
Traditional buzz
The three vehicles making their North American debut at Pebble Beach include the 550HP Range Rover Sport SVR, the U.S. production version of the Jaguar F-TYPE Project 7 and the prototype of the new Jaguar Lightweight E-Type.
Only six E-Type vehicles will be produced for consumers, making it a highly coveted model.
Jaguar Land Rover is highlighting the fact that the vehicles come from the Special Operations division, perhaps simply to familiarize consumers with the existence of this division.
The Special Operations division creates heritage products, branded goods and handles all bespoke commissions, essentially making the products intended for brand loyalists.
Jaguar and Land Rover will also feature their full product lines at the three day event.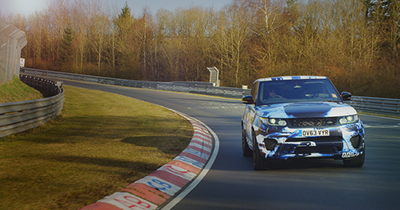 Land Rover vehicle
The brand will also be hosting numerous experiences during the event.
Some automakers are abreast of the latest event trends.
For instance, Audi UK leveraged virtual reality technology and various digital installations to enhance the consumer experience at the Goodwood Festival of Speed.
The event drew more than 100,000 racing enthusiasts who were pulled in many directions by competing brands. Brands that want to leave a lasting impact on consumers must begin to leverage technology in ways that supplement the physical experience rather than supplant it (see story).