British powerboat maker Hunton is setting up a display through Sept. 14 at Harrods to capitalize on the international traffic and the retailer's high-profile social media presence.
The exhibition is part of Harrods' "Made with Love" initiative and highlights British artistry and craftsmanship. For a brand looking to boost awareness, tapping into national pride is an effective way to increase name recognition.
"[The motivation] for Hunton was to increase brand awareness and what better place to do this for the international reach than Harrods," said Fiona Pool, managing director of Hunton, London.
"It was also the right choice given Hunton is very much a British brand, being hand built by true craftsmen, so Harrods fitted perfectly with our image," she said.
"The Made with Love campaign was the perfect platform for Hunton to be involved with given it is promoting British bespoke luxury."
Craft at work
Harrods has been bringing together a number of brands across categories for the bespoke event series, "Made with Love."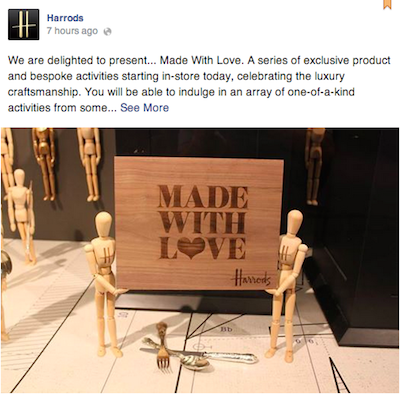 Harrods Made with Love promotional post
The event kicked off July 17 and is the first storewide bespoke campaign from the retailer. Giving access to specialized services will make consumers feel special, and reinforce the quality of the brands under Harrods' roof (see story).
Some brands that have participated include Gucci, Mulberry and Anya Hindmarch.
Hunton sensed a great opportunity to boost brand awareness by weaving itself into the event and aligning with top brands in other categories.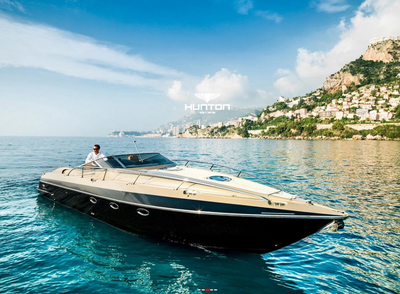 Hunton powerboat
The powerboat maker will set up a pop-up display and video wall on the lower ground floor of Harrods Aug. 7, and will also deploy various media content throughout the store.
With craftsmanship as the display's theme, Hunton will introduce consumers to the vast bespoke options that it offers.
The ultra-affluent are increasingly inclined to customize major purchases, to imbue them with an identity, so the Hunton display will like pique the interest of visitors.
Those interested in considering a purchase can find all relevant information at the display.
Also, consumers not looking for a powerboat may simply appreciate learning about the craft that goes into each commission.
Changing course
Hunton has been making other moves to increase consumer awareness.
For instance, the brand is bringing its wares to the United States market to familiarize consumers with its heritage and meet the growing demand for bespoke luxury products.
Far surpassing the exclusivity of most brands, Hunton only commissions 24 boats per hand, each the work of 32 dedicated employees. Although the brand is unlikely to raise its production limit, entering a market as prodigious as the U.S. will increase the number of requests (see story).
For brands with a small pool of prospective clients, it can be hard to gain widespread recognition. Teaming up with a major retailer can help cultivate aspirational consumers.
"This is purely a one month collaboration and a pop-up dealership for Hunton," Ms. Poole said.
"We will continue collaborating on other events, for example, we are discussing a private event for the top customers of Harrods which will include Hunton for some point in 2015 and they have included an editorial piece on us in the October men's magazine," she said.
"Harrods is a great partner for Hunton for this given how iconic the store is and how it represents luxury and exclusivity. Its international reach is also very appealing."
Final Take
Joe McCarthy, staff writer on Luxury Daily, New York