Small luxury hotel operator Auberge Resorts is now operating a luxury boutique hotel and penthouse residential development in Ketchum, ID.
The hotel will be in the downtown of this commercial and cultural city of Sun Valley and the new hotel will be the first property built in over 20 years. Auberge Resort Sun Valley will likely draw visitors and locals to the new location regardless of their affinity to Auberge Resorts due to the novelty of the property.
Flock to the mountains
Auberge Resort Sun Valley will host 80 to 90 rooms and several penthouse residences. The resort will also have a full-service restaurant and bar, a spa, heated outdoor swimming pool and sun terrace and fitness facilities.
The construction process is being led by a local developer who has conducted construction on several real estate projects in the city.
Sun Valley was once a winter resort location, but now attracts visitors year round. The hotel will be near the gateway entrance to downtown Ketchum, within walking distance of the town's attractions.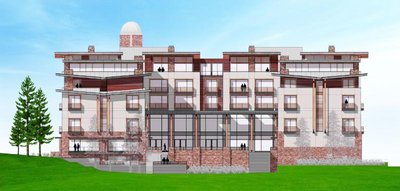 Auberge Resort Sun Valley
There will be 14 for-purchase residences, six of which will be penthouses. The residences will be from 1,750 to 2,400 square feet in one level floor plans. Residents will have access to the hotel's amenities and a garage with private elevators.
This project will break ground in spring 2015 and is expected to finish in time for the 2017 summer. The construction will employ about 100 full-time workers and the hotel is expected to employ 80 people, creating many local jobs.
Auberge Resorts has also been expanding globally.
Following an undisclosed investment by Friedkin Capital Partners, Auberge Resorts is preparing to break from its isolation in North America through international expansions.
Auberge intends to enter markets in The Carribean, Europe and Africa, which will likely alter how the brand operates. Dan Friedkin, owner of Friedkin Capital Partners, will serve as chairman of the board, while current Auberge Resorts CEO Mark Harmon will maintain his position (see story).