Swiss watchmaker Jaquet Droz is bringing its touring exhibition that celebrates 275 years of history to The Shops at Crystals in Las Vegas.
The new location will be the first in the United States and highlights the brand's history as a watchmaker. The celebration will allow consumers to gain deeper insight into Jaquet Droz's history and to interact with the brand outside its stores.
Clocking history
The Enchanted Journey exhibit will be in front of the Tourbillon Boutique in Las Vegas, taking consumers on a journey through brand history.
The historical references will draw attention to the relationship between the brand's past works with more contemporary pieces. Jaquet Droz's exhibition will also showcase exclusive models from the artistic workshop that displays the hand engraving and miniature painting on the timepieces.
On the first day of the Las Vegas exhibit, a master artist from the brand will demonstrate the artistry behind hand engraving and miniature painting on watch dials.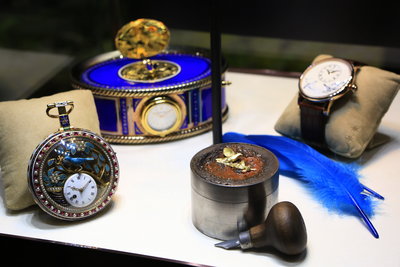 Jaquet Droz exhibition
The timepieces will be displayed through Nov. 12. The exhibition has previously been in Moscow, Basel, Hong Kong and Macau and will travel to the Middle East and Europe after the Las Vegas stop.
Other watch brands have also been celebrating historical moments.
For instance, watchmaker Breguet celebrated its founder's tourbillon innovation through a month-long exhibit in Geneva that later toured other cities worldwide.
The exhibit titled "Breguet, the innovator. Inventor of the Tourbillon" honored Abraham-Louis Breguet's invention of the watch regulating tourbillon in 1801. Consumers could also learn about the exhibit and the tourbillon on Breguet's Web site through images and a video (see story).