Four Seasons Resort Palm Beach is hosting the Palm Beach Food & Wine Festival Dec. 11-14 to get local foodies inside its property.
The Palm Beach Food & Wine Festival is in its eighth year, and will include tastings, panel discussions, cooking demonstrations and competitions at the resort, as well as other activities at select other venues around the city. By being a main hub for this festival, Four Seasons will be able to showcase its dining spaces to the local crowd.
Tastemakers
Four Seasons will host Chillin' N' Grillin' poolside, where Cooking Channel host Eden Grinshpan asks chefs Robert Irvine, Elizabeth Karmel, Mike Lata, Marc Murphy, Jeff Mauro, Christina Tosi, Fabio Viviani and Darryl Moiles to reinterpret the burger.
At the hotel, there will also be a showdown of Miami and Palm Beach chefs, who will be cooking fair food.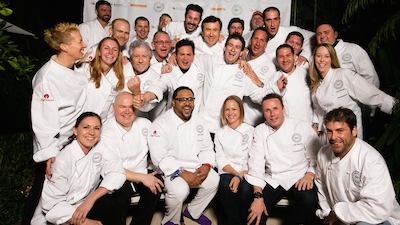 Palm Beach Food & Wine Festival
For the festival, Four Seasons Resort Palm Beach is also offering special packages, which offer discounts on tickets to the events held at the hotel.
Culinary festivals give brands with a tie to food the chance to highlight their offerings.
Appliance maker Jenn-Air will be a sponsor at the Los Angeles Food & Wine Festival by providing Master Culinary Stages for tasting opportunities and cooking demonstrations.
The event is held Aug. 21-24 and features top chefs throughout. Jenn-Air's sponsorship will align the brand with some of the best chefs and food and will provide a stage for guests of the event to gain familiarity of the brand (see story).