Today Starwood Hotels & Resorts' Luxury Collection unveiled the restored public spaces at the Hotel Imperial in Vienna after a year-long, $14 million dollar overhaul.
The hotelier's multi-million dollar restoration project restored one of Europe's most iconic hotel's lobby, signature restaurant, bar, Imperial Cafe and Imperial Torte shop and event spaces. To date, Luxury Collection has invested more than $580 million to restore and reinvigorate Europe's landmark hotels.
A new lease on life
Under the direction of British interior designer Alex Kravetz and the Bundesdenkmalamt, Austria's Federal Office for the Care of Monuments, Luxury Collection restored an icon.
With the restorations complete, Hotel Imperial is celebrating its 140th anniversary. Built in 1863, the property, originally the private resident of Prince Philipp of Württemberg, was converted to a hotel in 1873.
Due to its location on Ringstrasse, the hotel is nearby many of Vienna's attractions such as the Vienna State Opera, Kunsthistorisches Museum and the Secession Building.
To keep Hotel Imperial's heritage at the forefront of the renovations, the Composers Entrance, a passage connecting the hotel to the Musikverein, has been remodeled and enlarged for a more stately look. Also, the hotel's grand entryway, the Path of History, has been lined with archived photos of the hotel's storied guests.
Restorations also extended to the hotel's lobby bar, 1873--HalleNsalon and the Cafe Imperial Wien where guests can sample the decadent Imperial Torte.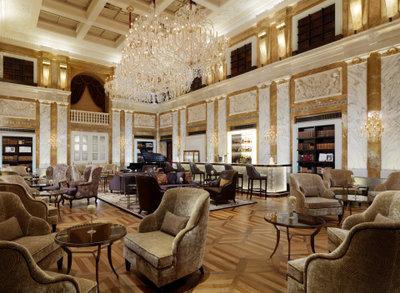 Luxury Collection's Hotel Imperial's lobby bar
Hoteliers often renovate properties but aim to maintain the old world charm of iconic hotels.
For instance, The Peninsula Hotel's first European property opened Aug. 1 in Paris as part of its global expansion plan.
The 1908 building will maintain its shell while receiving a fresh interior renovation and will be equipped with the latest technology. Four basement floors were dug out to accommodate modern requirements such as wiring, pools and parking (see story).