French group Kering is looking to attract fashion-minded talent through a partnership with Vogue Italia.
For the second year, Vogue Italia's Web site will act as the platform for Kering's internship listings in both luxury brands and corporate headquarters. Since it is difficult to source quality talent to fill positions within luxury fashion brands, introducing young individuals to the conglomerate through these internships may help pave the way for employment later.
"Vogue is the world's leading fashion magazine," said Al Ries, founder and chairman of Ries & Ries, a Roswell, GA-based marketing strategy consultancy. "It's the best choice for a company like Kering with its portfolio of high-end fashion brands.
"Since this is the second year Kering has run the program, they are obviously pleased with the results obtained last year," he said. "No company repeats a program unless the program is initially successful."
Mr. Ries is not affiliated with Kering, but agreed to comment as an industry expert.
Kering was unable to comment directly before press deadline.
Public platform
The internship listings for the "Empower Talents 2" project are being published Sept. 18. These will represent positions in marketing, information systems, public relations, communications and merchandising.
Gucci, Bottega Veneta, Girard-Perregaux, Brioni, Pomellato and Sergio Rossi are among the brands offering internships.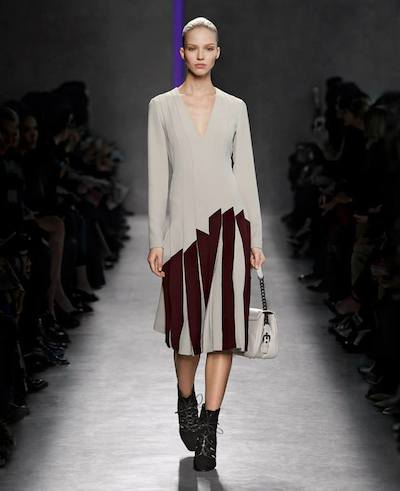 Bottega Veneta fall/winter 2014 runway look
Candidates will be able to apply until Nov. 15, at which point a panel of Kering representatives and agents from other brands will pick a short list of candidates to interview.
To make the applicant pool more global, the applicants are to apply in English rather than Italian.
After the interview process, the chosen candidates will be placed in internships running from November 2014 to April 2015.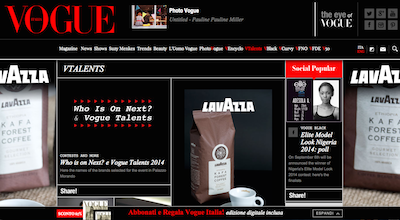 Vogue Talents Web page
Last year's internship program was successful for Kering, and the conglomerate is considering the most talented interns for permanent positions.
In a branded statement, François-Henri Pinault, chairman and CEO of Kering, said. "Identifying talent and empowering creativity are both part of Kering's vision and core missions."
Kering has illuminated this dedication through similar talent-seeking initiatives globally.
In the U.S., the conglomerate co-hosted the third annual "Empowering Imagination" competition for students with Parsons The New School of Design.
Top 2014 graduates from the BFA fashion design program at Parsons in New York vied for an internship at one of Kering's 22 luxury or lifestyle brands. Students were chosen to participate in the contest based on the strength of their thesis project both technically and conceptually and their ability to verbalize their point of view presented in the collection (see story).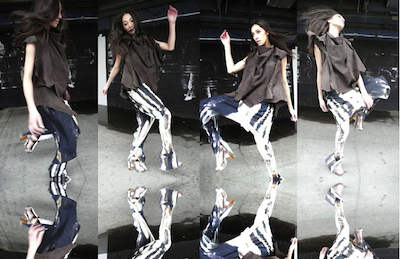 Laura Li's thesis for Parsons
Talent search
Luxury brands struggle to find and recruit the top talent for positions across their companies, according to a recent study from Boston Consulting Group.
Having the right employees can have a measured impact on a brand's profits and economic growth, especially in executive and leading creative roles. Because of this luxury brands may need to rethink their existing recruiting strategy to locate the personnel necessary (see story).
Luxury companies have different ways of reaching out to young talent.
Italian fashion house Versace touted the design process behind its watches by hosting a student competition called Versace Watch Talent.
The label's Swiss watches are produced through a licensing agreement with Timex Group that began in 2004. By asking students at Swiss horological university École d'Arts Appliqués de La Chaux-de-Fond to reinterpret its designs, Versace could generate awareness of its brand, watches and craftsmanship (see story).
This contest is likely more well-suited to a larger luxury conglomerate than an independent label.
"An independent luxury brand wouldn't have enough openings to justify a program like this one," Mr. Ries.
"Interns are really a drain on management time," he said. "It takes a large company like Kering to justify this type of program."
Final Take
Sarah Jones, editorial assistant on Luxury Daily, New York