Four Seasons Hotel Boston is leveraging the nearby Museum of Fine Art's extensive Francisco Goya retrospective to drive traffic through Jan. 19.
The retrospective features 160 pieces by the Spanish master, giving an almost unprecedented look into his career for the predominantly North American audience. Guests who book the "Art Lovers" package at Four Seasons Boston will receive a streamlined museum experience.
Expressive color
The Goya package includes luxury accommodations, complimentary valet parking at the hotel, VIP museum tickets, a hard-cover catalog of the exhibition and a Goya-themed welcome amenity.
For the largest Goya exhibition in North America over the past 25 years, the M.F.A. divided the pieces in "Goya: Order and Disorder" according to theme, taking a novel approach to the categorization of Goya's career.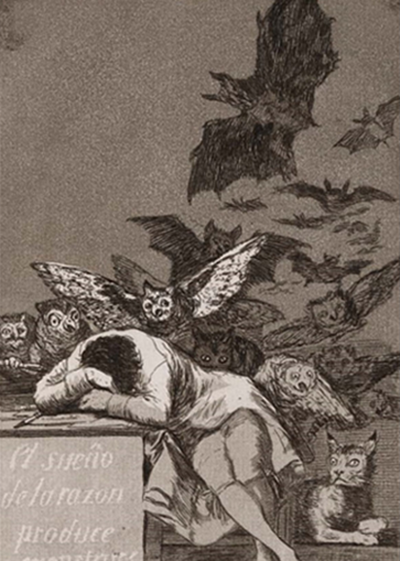 Francisco Goya's "The Sleep of Reason Produces Monsters," drawn and etched
The themes include: nurturing and abuse of children; hunting as sport and metaphor; religious devotion and superstition; equilibrium and loss of balance; justice gone awry; and the symbolism of the giant.
Four Seasons regularly looks for ways to appeal to its guests' passion for art.
For example, the brand took guests around the world for a package that centered on the arts.
The 16-day "Backstage with the Arts" offer took travelers by private jet to France, Portugal, Italy, Turkey, Russia and the Czech Republic. Throughout the two-week excursion, guests were thoroughly steeped in Europe's varied cultures (see story).