Swiss watchmaker Tag Heuer is boosting its image in the running community with prime placement as the official timekeeper and timepiece of the Bank of America Chicago Marathon.
This will become a piece of Tag Heuer's "Don't Crack Under Pressure" campaign, which brings to light athletes that challenge themselves to reach a goal. The marathon, in its 37th year, attracts approximately 45,000 participants and 1.7 million spectators each year, giving Tag Heuer a large audience to share its message of perseverance.
Running ahead
The Chicago Marathon will take place this year on Oct. 12.
To celebrate its position, Tag Heuer will gift the top male and female competitor in both the elite and wheelchair divisions with a watch.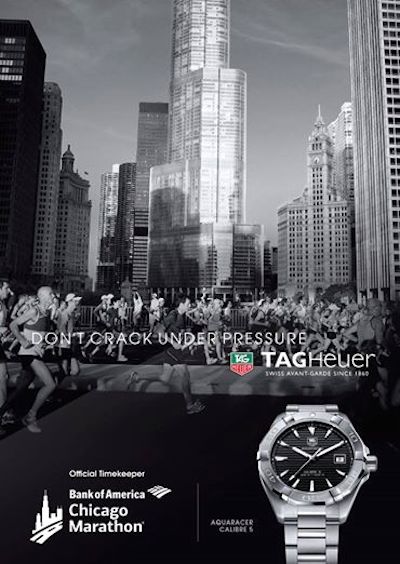 Tag Heuer Chiacago Marathon poster
In a statement, Carey Pinkowski, executive race director, said, "Tag Heuer is an iconic brand recognized for their longstanding history in sports and innovation and one that aligns perfectly with the Bank of America Chicago Marathon."
This follows Tag Heuer's recent announcement of another marathon placement.
Tag Heuer entered a three-year stint as the official timekeeper of the TCS New York City Marathon.
To launch the collaboration, Tag Heuer and the New York Road Runners, the organization that puts on the marathon, are asking consumers to share their running stories for a chance to be featured on a billboard in Times Square. This partnership between the sporting event and Tag Heuer is a match for the brand's heritage and values (see story).