Britain's Bentley Motors is partnering with Absolute Racing in China to expand its Continental GT-3 program.
The GT-3 will make its Chinese racing debut from Oct. 10-12 during the Shanghai round of the GT Asia series. Bentley's GT-3 has won races in two continents, and this will allow the automaker to potentially add to its accolades in a new geographic location.
Branching out
Bentley's GT-3 will be on display at the Shanghai Supercar event on Sept. 28 before the car's first race.
After the Shanghai race, Absolute Racing will take its GT-3 to the Macau GT race from Nov. 13-16.
For both of the first racing events of this partnership, Jean Karl Vernay will be in the driver seat. Mr. Vernay won the GTE AM class at the 2013 24 Hours of Le Mans and also placed third in the 2013 GTE AM World Endurance Championship.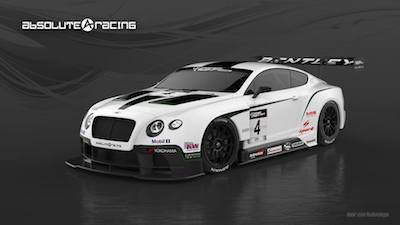 Rendering of Absolute Racing Bentley GT-3
China is an important market for Bentley, so having this presence in racing will help showcase the speed and technical merits of its vehicles to consumers there.
Recently, Bentley continued its reawakening in the world of racing with its first motorsports victory outside of Europe.
The automaker achieved first and third place in the penultimate race of the 2014 Pirelli World Challenge championship at the Miller Motorsports Park in Utah. While the motorsports world tends to cater to hardcore automotive fans, the breakthroughs developed in this realm often have a positive cascading effect on all brand activities (see story).