French crystal maker Baccarat is continuing its 250th anniversary celebration with an upcoming exhibit at the Grande Galeries of the Petit Palais in Paris.
"Baccarat: Crystal Legend," supported by Dior Parfums and Remy Martin, will run from Oct. 15 through Jan. 4, wrapping up the milestone year for the brand. This will be the first Baccarat retrospective held in France since the brand's bicentennial exhibit at the Musée des Arts Décoratifs in 1964, creating the potential to spread awareness for the brand's heritage to a new set of consumers.
"From a continuity perspective, this exhibition makes sense for the brand," said Elizabeth Weinstein, account executive at The O Group, New York.
"Baccarat has a history of purposeful and event driven presentations: their last retrospective celebrated their 200th anniversary, for example," she said. "The selection of their 250th year for this exhibit is a natural progression in the celebration of a storied brand."
Ms. Weinstein is not affiliated with Baccarat, but agreed to comment as an industry expert.
Baccarat was unable to comment directly before press deadline.
History lesson
The exhibit, compiled by Baccarat Heritage Collection curator Michaela Lerch-Moulin and Petit Palais chief curator Dominique Morel, will include 500 archival pieces, most of which are coming from the brand's own private collection. This is supplemented by loans from the Musée d'Orsay, the Louvre, the Musée des Arts Décoratifs, the Cité de la Céramique, the Musée des Arts et Métiers, the Château de Compiègne and the Musées de Nancy.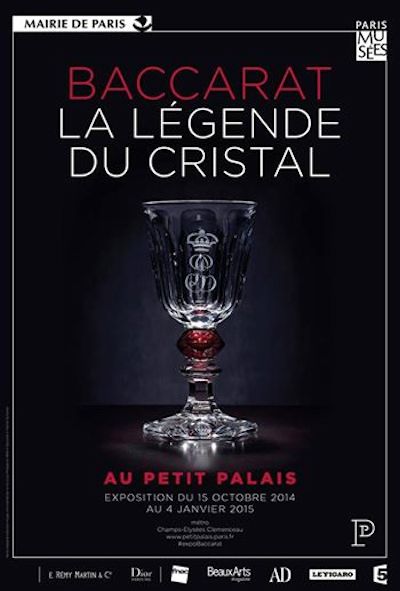 Poster for Baccarat exhibit at Petit Palais
To help trace the creation of the crystal pieces from the inspiration, Baccarat will also display a number of drawings for the first time.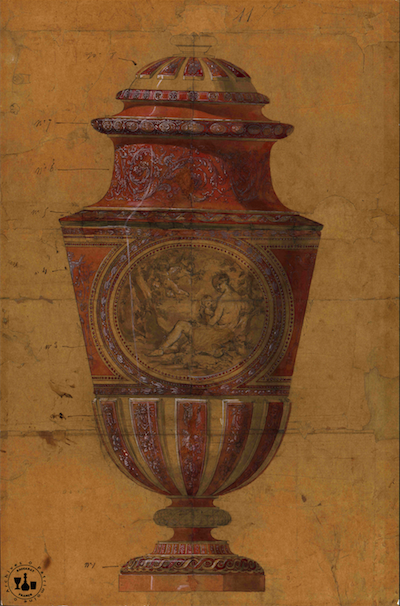 Drawing for the Simon vases
A nod to the venue, which was built for the Universal Exhibition of 1900, Baccarat will display crystal made for the Parisian exhibitions from 1823 to 1937. These shows were influential in making Baccarat an internationally known brand.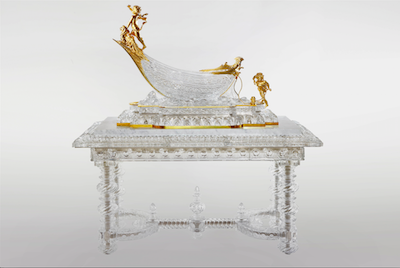 Table and Ship, Universal Exhibition of 1889 in Paris (for the table) and Universal Exhibition of 1900 in Paris (for the Ship)
Celebrating its royal ties, dinner service commissioned by Czar Nicholas II, the emperor of Japan and maharajahs will be laid out on a table. A special area of the exhibition space will be dedicated to the Harcourt glass, which King Louis-Philippe commissioned in 1840.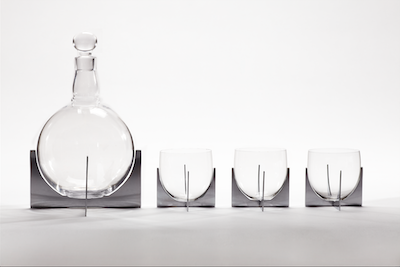 Paraison collection commissioned for the maharajah of Indore for his palace Art Déco of Manik Bagh in 1933
Baccarat has previously paid homage to specific collections.
The brand celebrated its global appeal with a series of romantic vignettes directed by women in major cities.
Baccarat's "Legendary Stories" featured the brand's Harcourt collection of glasses as an integral part of the short films, which are housed on a dedicated microsite. These stories elevate the brand's glasses from an everyday object to a major player in life's special moments, allowing the brand to connect with consumers on an emotional level (see story).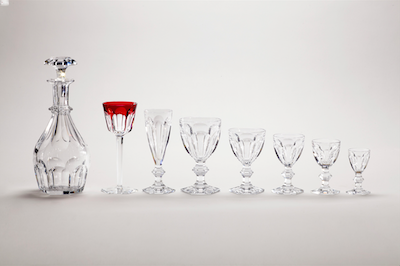 Harcourt collection from 1841
At the end of the exhibit is a series of chandeliers, the largest one with 250 lights.
In November and December, the Petit Palais will be hosting family workshops, in which children can create their own version of Baccarat crystal seen in the exhibit out of plastic to be used for Christmas decorations.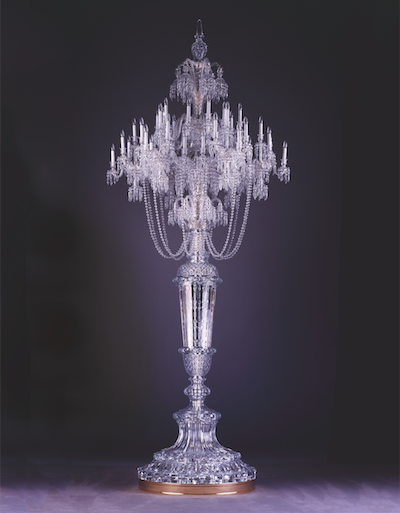 Candelabrum known as The Czar's, commissioned for Czar Nicolas II in 1896
Coming home
This exhibit comes at the end of a year-long global celebration.
Earlier, Baccarat feted its 250-year history at the Paris flagship of department store Printemps.
For the event, Baccarat had a window display, in-store pop-up and exclusive products for the department store. Printemps and Baccarat share a French heritage and a lengthy history, making this in-store event more meaningful (see story).
Throughout the year, Baccarat released branded postage stamps in France, set up a display in the windows of Harrods and curated an exhibition at the Church of San Carpoforo in Milan during home show Salone del Mobile.
Also in Paris, a retrospective at Baccarat's own museum looks back at its history.
"While this will surely appeal to brand loyalists, the museum exhibit provides an opportunity to reach a wider target," Ms. Weinstein said. "This exhibit will appeal to those who appreciate the luxury qualities of history and craftsmanship, as Baccarat has decorated the halls and tables of royal families for over 200 years.
"This exhibit will bring great historical awareness and context to Baccarat as a luxury brand and leader in their category," she said. "It's also a great marketing tool for the brand to artfully remind younger or unaware consumers of their relevance."
Final Take
Sarah Jones, editorial assistant on Luxury Daily, New York