LVMH-owned Veuve Clicquot is adding a charitable element to its traveling mail-themed effort by asking consumers to design a branded mailbox.
Veuve Clicquot's "Re-creation Awards" began on Oct. 1 and welcomes the public to design a mailbox specifically for the Champagne brand's Clicquot Mail package. The special Clicquot Mail packaging, shaped like modern mailbox with a bottle housed inside, reflects the Champagne maker's founder's love for handwritten correspondence.
Where's the mail?
Over the summer Veuve Clicquot traveled around the United States in a branded mail truck and encouraged individuals to send hand-written letters to friends and family (see story).
Now, Veuve Clicquot is inviting designers and the general public to design their own Clicquot Mailbox. The winning design for the Re-creation Awards competition will be reproduced, distributed and sold globally in 2015.
To kick-start the effort, Veuve Clicquot tapped jewelery designers Lulu Frost and Pamela Love to create their own mailboxes, which will be auctioned off for charity on CharityBuzz.com. Proceeds from the auction, with a starting bid of $1,000 per mailbox, will benefit Parsons The New School of Design in New York.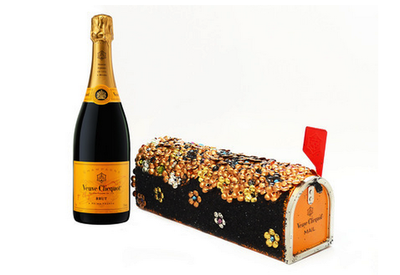 Pamela Love's Re-creation mailbox on auction
Submissions will be accepted until Nov. 15 when first round winners will be decided by public vote ending Dec. 15. A second winner will be selected by a panel of judges from a pool of nine countries including Australia, Belgium, Brazil, Canada, Germany, Japan, Spain, the United Kingdom and the United States.
In the U.S., judges include Veuve Clicquot vice president Vanessa Kay, designer and founder of Lulu Frost, Lisa Salzer, founder of P.S. - I made this, Erica Domesek and Simon Collins, Dean of Fashions at Parsons The New School for Design.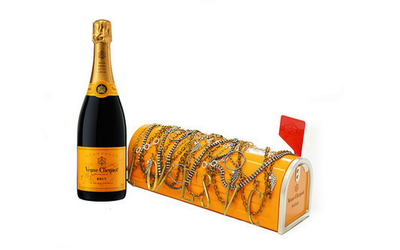 Lisa Salzer of Lulu Frost's Re-creation mailbox on auction
Winners of the U.S. will join 16 young designers from around the world at the Champagne brand's Hôtel du Marc for two days, where they will enjoy tours of the Veuve Clicquot cellars, a gala dinner at the hotel as well as a lunch and visit to the vineyards. The ultimate winner will be selected from this group with the winning design announced at a ceremony April 9 and during Milan Design Week on April 14.
In addition to the design being created and sold by Veuve Clicquot, the winner will receive $13,000.
The Champagne brand has included an instructional video to go over submissions. Submissions for the Re-creation Awards can be entered here.
Veuve Clicquot introduces the Re-creation Awards